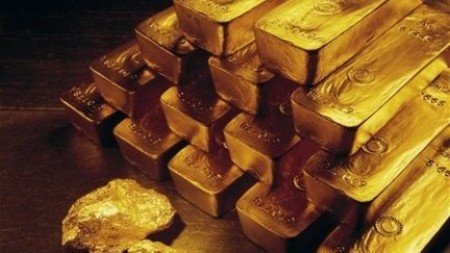 ---
SINGAPORE: Gold dropped around 1 percent on Wednesday despite a tumbling euro after attempts to revisit last week's highs failed, stirring concerns the precious metal may be ripe for a correction.

Gold struck a record of $1,248.95 an ounce on Friday on fears that euro zone austerity measures could impede, rather than aid, a recovery. But rises in net long positions in New York futures to near their peak also suggested the market was technically overbought.

Fears of contagion from Greece's debt crisis have driven gold to a record as investors ditched the euro and bought the metal as safe haven from volatile currencies and stocks. Gold has gained around 11 percent this year. Gold hit an intraday high of $1,227.10 an ounce before hitting a low around $1,205. It was later quoted at $1,209.20 by 0524 GMT, down $10.50 from New York's notional close on Tuesday.

Dealers noted selling before COMEX June contract's first notice day next week, but sales of gold scrap had subsided in Asia as holders waited for bullion prices to recover. "Those who are long may need to close off their position if they want to avoid physical delivery," said a dealer in Singapore. "Some investors may also want to switch to holding the dollar that gives higher interest, rather than holding on to gold. Considering both the dollar and gold are safe haven instruments, holding on to the dollar seems to offer better returns currently."

U.S. gold futures for June delivery fell $4.4 to $1,210.2 an ounce after hitting a high of $1,228.2 an ounce. It had hit a one-week low on Tuesday before recovering.
COMMENTS
Comments are moderated and generally will be posted if they are on-topic and not abusive.
For more information, please see our Comments FAQ