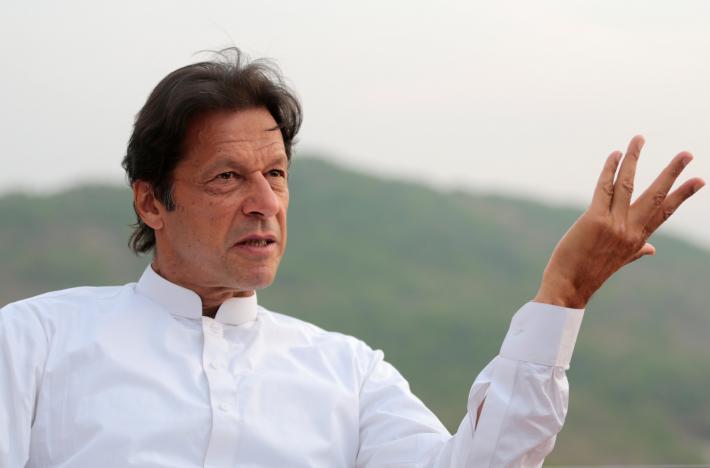 ---
KARACHI: Pakistan Tehreek-e-Insaf Chairman Imran Khan on Sunday said that the only way possible to take the nation forward and join the league of developed countries was to have an honest and sincere leadership.

He was speaking at a local hotel in connection with the fund-raising for Shaukat Khanum Cancer Hospital.

"There is a lot of potential in the Pakistan cricket team and when provided with opportunities the nation has proven itself, just like Shaukat Khanum memorial hospital that was built with generous donation of the people," he said.

Threats to Panamagate JIT will result into mass agitation, Imran warns

He added: "Pakistan comes among five most charitable nations, and yet over here in just 30 minutes, Rs170 million have been donated to the Shaukat Khanum Hospital."

"Cancer is such a disease which is very costly for anyone to bear its treatment expenses. However at the Shaukat Khanum Memorial Hospital, 75 per cent people are treated free of cost," added Khan.

He said the hospital has set an example that whenever a nation gets united it can achieve anything in the world.

Sharif brothers will be in Adiala Jail soon, says Imran

On the occasion he congratulated the Pakistan Cricket team and the nation on winning the Champions Trophy.

Earlier, upon arrival at Karachi airport, Khan said the whole nation was on one side while the corrupt mafia on the opposite side "as people have decided to get rid of them now". "I demand that the JIT should also interrogate former FIA official Inamur Rehman."

Khan said it was taxpayers' money that was laundered abroad and that anyone who was involved in corruption should be held accountable.
COMMENTS
Comments are moderated and generally will be posted if they are on-topic and not abusive.
For more information, please see our Comments FAQ