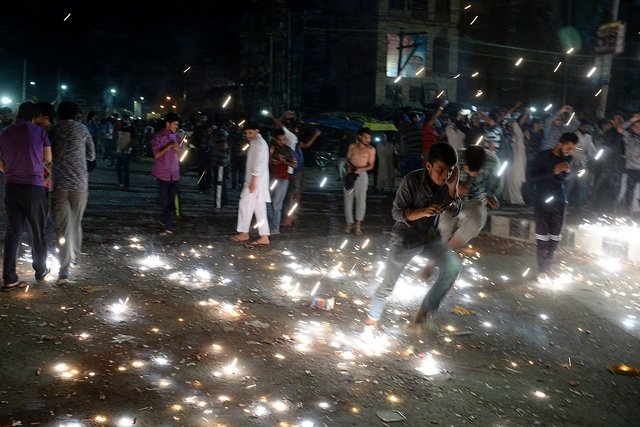 ---
SRINAGAR: Kashmiris in Indian Occupied Kashmir celebrated Pakistan's victory over arch-rivals India in the Champions Trophy final with defiant pro-Pakistan chants and fireworks as shocked silence reverberated across Delhi following the historic upset.

Young men gathered in mass at TV shops across Srinagar as Pakistan belied expectations to thrash Virat Kohli's team by 180 runs at the Oval in London.

Kashmiris, who traditionally support Pakistan in cricket, especially against India, took to the streets after the win waving Pakistani flags and chanting "Jive Jive Pakistan (long live Pakistan)" as fireworks exploded over Srinagar's skies.

Anti-India sentiment runs deep in Kashmir, where most people favour a merger with Pakistan.


And this is.........Srinagar!! pic.twitter.com/Espi1dcmcq

— DG ISPR (@OfficialDGISPR) June 18, 2017


"This is the moment we were waiting for... It is a dream come true," a Kashmiri youth shouted in support of the Sarfraz Ahmed-led Pakistan team.

Indian Occupied Kashmir has been tense for months as violence between security forces and protesters fighting to end Indian rule have intensified since the killing of a popular separatist leader Burhan Wani last year.

"Winning this trophy apart, I am celebrating my political sentiment as well," Amir, who gave only his first name, told AFP outside the grand mosque in Srinagar's old town of Nowhatta.

"This was long overdue."

Earlier in the day Indian paramilitary forces patrolled various parts of the city but were withdrawn to avoid clashes with the civilians. AFP
COMMENTS (8)
Comments are moderated and generally will be posted if they are on-topic and not abusive.
For more information, please see our Comments FAQ