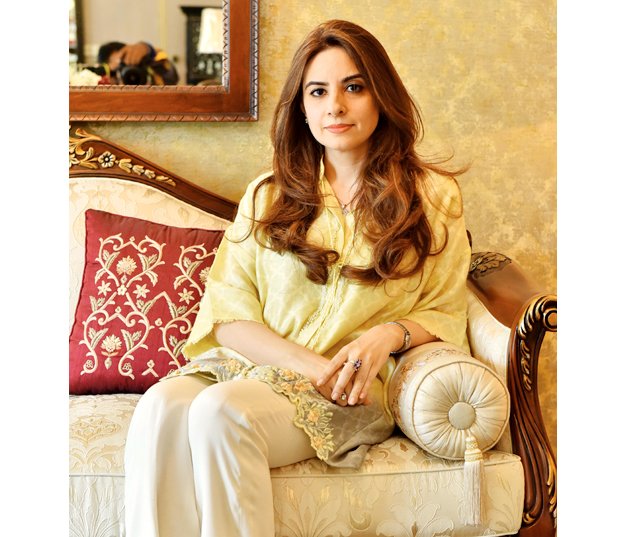 ---
The talented Interior Design Consultant and CEO of En Vogue furniture, gives us a tour of her studio in the bustling shopping district of Karachi

As we walk into one of the many furniture studios in Karachi's Zamzama area, we are met by our charming host for the day, Saira Shafi, who gives us a warm welcome. Before we are given a tour of the showroom, we're taken straight through into her cosy office space, where we sit on the most comfortable chair, upholstered to perfection.

Shafi gives us a brief history of the family business which was founded over 30 years ago by her mother, Neelam Mawaz. "Through the years, we've managed to place Vogue as a major player in both the domestic and international market for luxury furnishings," she says, adding: "Our classic pieces with a timeless appeal are true to our design aesthetic."




After a brief chat, we're intrigued and ready to take a walk around the various corners of the space. There is so much that our attention is drawn towards, from the contrasting themes in each piece to the use of exotic woods, to the luxurious fabrics of the upholstery and the intricate hand carvings. But the piece that really stands out is the classic jhoola; which Shafi says is a favourite among her clients. At first glance, it becomes apparent that a lot of thought has gone into each piece, and we wonder where Shafi and her team draw inspiration from.

"Of course, we follow western and international trends, but we also stay true to our rich cultural heritage and age-old traditions," she says, which is evident in the ethnic Dewan-e-Khaas collection which we are told is inspired by Mother Nature. The collection incorporates peacock emotifs and floral carvings and features mother of pearl inlays, hand painted wood and heirloom pieces. Solid colours dominate this range and the use of raw silks gives the collection that luxe feel.




As we walk over to another corner, it feels as though we've walked onto the set of a European period drama. The furniture is perfectly placed on a lavish rug and hues of deep red and gold give the space a regal feel. The prominent use of silks, velvet and luxe fabrics are an ode to old world charm, and Shafi explains that this collection was aimed at "reproducing period furniture, while staying true to the company's design aesthetic."




Shafi delves into the details of how important it is for a piece of furniture to make an impact to your home. She gives us quick tips on how different pieces can be mixed and matched to bring out the best of your furniture. To explain further, Shafi shows us the more contemporary range of furniture. The collection boasts a play of texture and material, comprising leather, simple lines and glossy finishes. As our time with our host comes to an end, we leave realising how much work and effort goes into producing furniture of such grandeur. We're convinced that choosing the right pieces for your space is truly what makes a house a home.