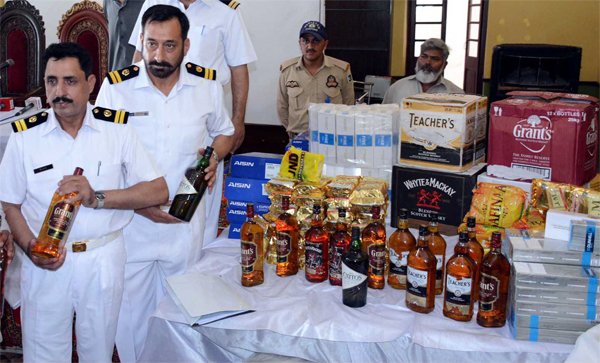 ---
KARACHI: The Model Customs Collectorate of Preventive claimed to have arrested over a dozen suspects and foiled several smuggling attempts during an anti-smuggling drive.

Sharing the recent actions of the anti-smuggling organisation at a press conference, Customs Preventive Collector Saifuddin Junejo said that during a drive against smuggling of non-duty-paid vehicles, liquor, cargo and other goods, multiple operations were conducted by the organisation. During the drive, they seized smuggled items worth Rs328.73 million with evasion of duty and taxes to the tune of Rs149.91 million, he added.

Crackdown: Police recover 35 litres of moonshine 

The officer said during the drive, a total of 5,400 bottles of liquor, 16 non-duty paid vehicles, 16,000 kilogrammes of grey cloth, 13,353 kilogrammes of auto spare parts, 4,276 merchandise goods, 350 tortoises, and 196,849 packets and pouches of cigarettes and gutka were recovered, while 15 suspects involved in smuggling were arrested and criminal proceedings against them are in process.