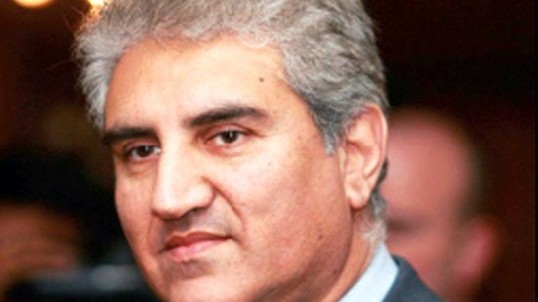 ---
ISLAMABAD: Foreign Minister Shah Mahmood Qureshi has categorically said that Pakistan will not accept any pre-conditions for talks with India and that the dialogue process must be held on the basis of equality.

Queshi briefed the Parliamentary Committee on National Security, which met in the Parliament House on Tuesday to discuss Pak-India composite dialogue process and the Pak-US strategic talks, under Chairman Senator Raza Rabbani. The minister clearly indicated that the government will not accept any conditions for peaceful dialogue with India on Kashmir, water and other issues, adding that the dialogue process must be held on the basis of equality.

The restoration of the Pak- India comprehensive dialogue process will begin as soon as Indian Foreign Minister SM Krishna visits Pakistan in July. No compromise will be made on national interests of the country, the foreign minister held. "Pakistan has always desired purposeful dialogue with India to resolve outstanding issue including the core issues of Kashmir," said Qureshi. The Kashmir issue is a cornerstone of our foreign policy. "We cannot be oblivious to it.

But, we desire a peaceful resolution through dialogue." "It was also agreed in Bhutan between the two prime ministers that dialogue is the only way forward," he added. Furthermore, Pakistan will not accept any condition with India on matters of Hafiz Saeed, Ajmal Kasab or any incident linking to terrorism tooth and nail, said Qureshi, as reported by a news agency. The foreign minister said that Pakistan will first see the detailed verdict against Ajmal Kasab and then give its reaction to it. Regarding Faisal Shahzad's case, the minister said that the issue had been discussed with US authorities as Pakistan was fully cooperating with them in this matter.

He told the US and India to understand the country's position before maligning it, he added. "The world should see that Pakistan itself is the biggest victim of terrorism." As committee members protested US Secretary of State Hilary Clinton's recent statements on Pakistan, Qureshi assured the committee that he had already conveyed Pakistan's sentiments to her. However, the government's stance on the statements will be heard during his next committee briefing, reported a news agency.

Published in the Express Tribune, May 19th, 2010.
COMMENTS (1)
Comments are moderated and generally will be posted if they are on-topic and not abusive.
For more information, please see our Comments FAQ