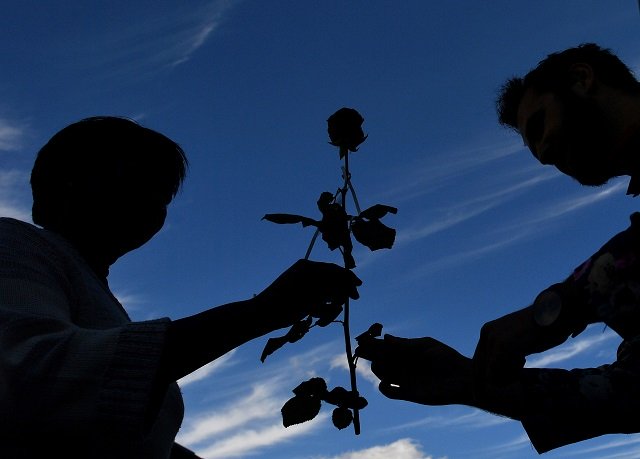 ---
In a demonstration aimed to show solidarity following last week's attacks in London, British Muslims on Sunday gave 3,000 roses to strangers walking down the London Bridge.

Zakia Bassou, one of the brains behind the 1,000 Roses London campaign, said "after the events of last weekend we are making a symbolic gesture of love for the communities affected by the attack", according to The Telegraph.

Anti-Muslim crimes spike in London after attacks

"The whole concept is we are not going to let London Bridge, or any bridge, fall down."

[/fbvideo]




"I think it's lovely, it's what London is actually about as a city," said Elida Ercolano, a Londoner who was greatly moved by the event. "It's what people should remember despite what's gone on. It's a great symbol and if nothing else it's bringing people together."

"It's easy to believe the fear but boil it down and we are actually, in the main, good people and we should remember that."

A visitor from Gillingham, Dorset, June Collis found the campaign "beautiful and lovely to see this group come out and share their love against all the horrible things that have happened".

After London attack, Facebook says aims to be 'hostile environment' for terrorists

"Muslims need to speak up and go against the extremists," she said. "This is a good way of speaking up for themselves. Let's just hope we don't see any more of these horrible killings."




Another visitor from Durham, David Hackett was touched by the event. "It's great to see people giving such a beautiful thing to demonstrate the love people have for each other," he said. "It's a strong, powerful message in such a poignant place, given recent events."

An American, Nancy Cannata, from the state of Massachusetts, said it was "very nice to see. And I think it's nice that they're Muslims - it's not everybody in the Muslim community carrying out these attacks. There are good and bad people in every religion, and I wish people could realise that."




London mayor says Trump will not 'divide our communities'

The 61-year-old is on a trip to the United Kingdom with her 63 year-old husband, Gaetano. The couple insisted they never entertained the thought of postponing their much-awaited trip. "We felt it would be safe and that there would actually be even more security, and we can see that's the case. We feel very safe," said Gaetano. "We just hope the world is heading in a better direction."

The project , financed through a crowd-funding campaign, is an on-going event where the group plans to hold another demonstration soon.
COMMENTS (1)
Comments are moderated and generally will be posted if they are on-topic and not abusive.
For more information, please see our Comments FAQ