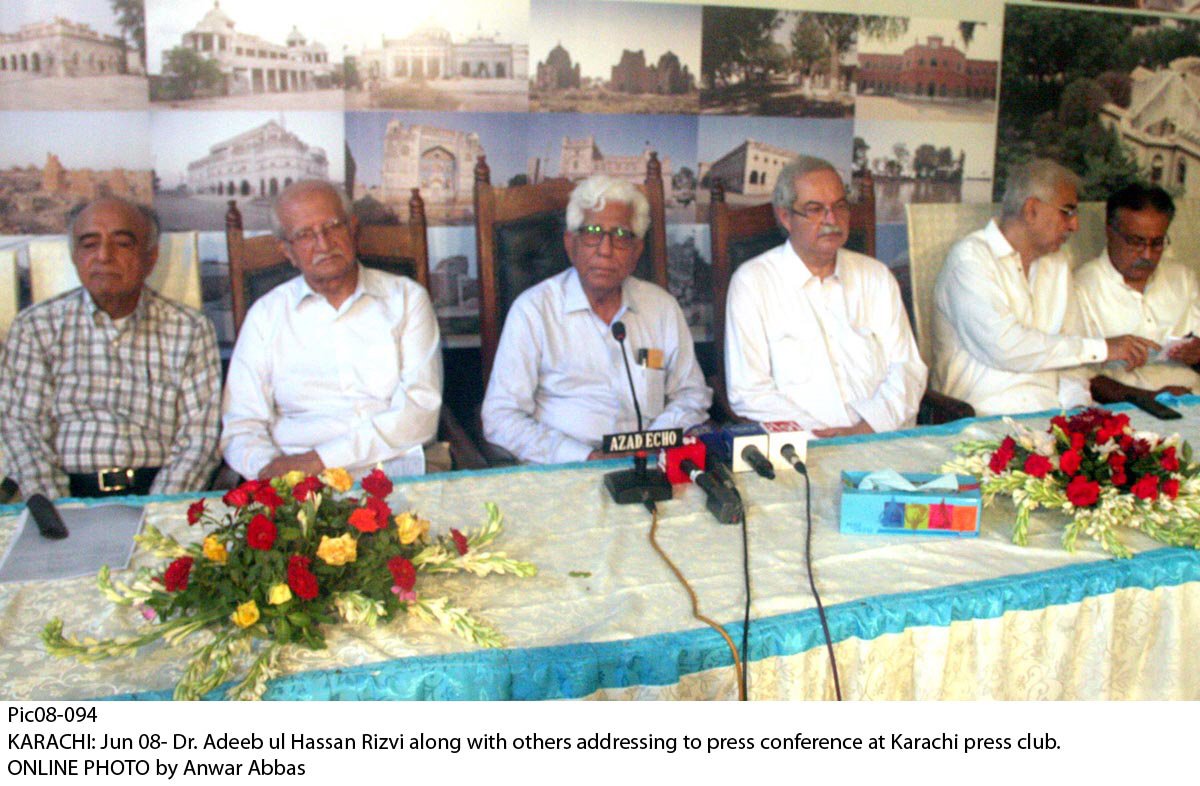 ---
KARACHI: Sindh and its heritage are in trouble. There is little help to save heritage sites from damage, both natural and man-made, nor are people willing to come forward to help. If these sites are not preserved, Sindh's heritage will be lost to the next generation.

However, there is one institution working towards the protection and preservation of our history – the Endowment Fund Trust. At an event, 'Saving Sindh's Heritage', held on Thursday evening at the Karachi Press Club (KPC) speakers discussed the need to safeguard the province's heritage.

"The trust is doing a marvellous job saving Sindh's heritage. The trust recently came forward to help the press club for its renovation," said KPC President Siraj Ahmed.

Culture dept wants inclusion of music, performing art institute in budget

"Under the tenure of [former chief minister] Abdullah Shah in 1994 a law was passed called the Protected Heritage Act, in which it was said that Sindh's heritage must be saved and conserved," explained Endowment Fund Trust Secretary Abdul Hamid Akhund. "Initially 600 such buildings were listed with the aim to declare them heritage buildings for the sake of maintenance. Later, with Shafiqur Rahman Paracha as commissioner of the city, 400 more buildings were added to the list but sadly no headway was made," he lamented. "20 years have lapsed since the law was passed but many of the buildings are surviving just as they are," he said.

He referred to a court case in which the Larkana district division bench ordered that no heritage site within the remits of the Larkana division could be touched. "We hope to make headway on the same lines in Hyderabad and later in Karachi," said Akhund.

Sindh Institute of Urology and Transplantation Director Dr Adibul Hasan Rizvi said, "A heritage site needs to be protected". He told participants of the event that many structures are crumbling. "If you forget your past, you will be forgotten in the long run. Many buildings need to be saved," he said.

Need to look at history through lens of science: Kenoyer

"One needs to observe a building. I have been frequenting the KPC since I was 12-years-old and now restoration is happening here for the first time in years," said Endowment Fund trustee Hameed Haroon. "The moveable art work of Sadequain needs to be protected, as does the MF Hussain wall-painting, which will be difficult to handle," he commented.

Speaking about the recently demolished Jufelhurst Public School building, Haroon said the Sindh government had vowed to rebuild the school but has not begun work yet. "It looks more like a case of theft," he said, adding that in last year's budget the culture, education and planning and development departments all included Jufelhurst's rehabilitation in their schemes.

"The heritage act needs to be revisited. Be it saving a private property or a public one, if both parties agree, it can be saved," said legal expert Shahab Usto. "The Sindh culture department needs to revisit the act. Pay a visit to Mohen Jo Daro and you will see how deplorable the condition of the museum there is," he suggested. "Culture preservation is still not thought of as our pride of history. It's high time we preserve our culture, or the next generation will never forgive or forget us," warned Usto.

Culture dept likely to revise allocation for Jufelhurst's restoration

Later, during the question and answer session, Akhund explained that there are two types of heritage sites - protected heritage and family heritage. "If a family backtracks, no heritage building can ever be saved," he lamented.

In conclusion, Akhund said the situation was messed up. "This is an utter graveyard. People will stumble here. Look what happened to Jinnah Courts, I paid a heavy price by losing my job. Awareness needs to be created," he warned.
COMMENTS
Comments are moderated and generally will be posted if they are on-topic and not abusive.
For more information, please see our Comments FAQ