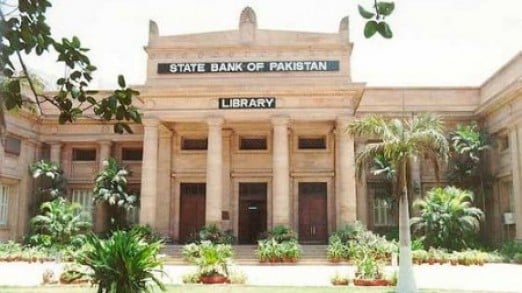 ---
KARACHI: The State Bank of Pakistan is formulating a five-year (2010- 2015) strategic framework for the development of the microfinance sector in the country.

Muhammad Kamran Shehzad, the Deputy Governor of the State Bank of Pakistan, said that while addressing a seminar on 'Increasing Sustainable Microfinance - Accessing Capital Markets and Promoting Financial Inclusion'. The seminar was organised jointly by the Pakistan Poverty Alleviation Fund (PPAF) and the International Fund for Agricultural Development (IFAD) here on Tuesday.

Shehzad said that the State Bank has adopted a holistic approach towards financial inclusion with several targeted policy measures and carefully designed interventions supplemented by donor support for promoting a dynamic and sustainable microfinance sector. "These measures are not only focused on policy, legal and regulatory framework for the microfinance industry, but are also strengthening the necessary infrastructure and supporting mechanisms to promote diversity and sustainability in the microfinance business," he added.

Referring to various initiatives taken by the central bank, he said that the SBP has implemented a flexible prudential regulatory regime for Microfinance Banks (MFBs) which allows innovation and organic growth without abandoning prudential objectives. Microfinance institutions are encouraged to have alliances with commercial financial institutions in order to meet funding needs of the sector, he added. Shehzad said that smart subsidies through donor-based programmes for providing infrastructure and capacity building support to the sector are being provided under the Financial Inclusion Programme (FIP).

Under the programme, funds have been established which provide subsidies on matching grant basis. He also informed the participants that a 'Financial Innovation Challenge Fund' will soon be launched for encouraging product innovation to expand access to financial services towards the low income end of the market. The SBP deputy governor said that both SBP and PPAF are addressing the funding constrains of the sector by encouraging institutions to look for funding resources which are diversified, private, owned and domestic.

SBP has issued guidelines to commercial banks for providing wholesale lending to the microfinance sector, he added. He stressed that microfinance industry needs large-scale transformation to become a dynamic participant within the overall banking system and to reach out to millions of un-served clients in the country. "This transformation would require energy, creativity, and commitment of all stakeholders. However, fundamental drive and dynamism must come from microfinance players themselves," he added.

He further said that every institution needs to have longterm business plans which generate revenues to meet all business costs and the approach for perpetual dependence on subsidies is neither sustainable at industry level nor acceptable among the ranks of policy-makers. Roshaneh Zafar, Managing Director of Kashf MicroFinance Bank said that the government of Pakistan needs to concentrate on the recovery of loans. She said that financing is a process like evolution which comprises of two tiers.

In tier one, loans are granted to smalllevel industries while tier two are the larger commercial operators who need a guarantee for obtaining loans. She said that the increasing level of bad loans was affecting the microfinance market and the country's regulatory environment needs to be more organised.

Published in the Express Tribune, May 19th, 2010.
COMMENTS
Comments are moderated and generally will be posted if they are on-topic and not abusive.
For more information, please see our Comments FAQ