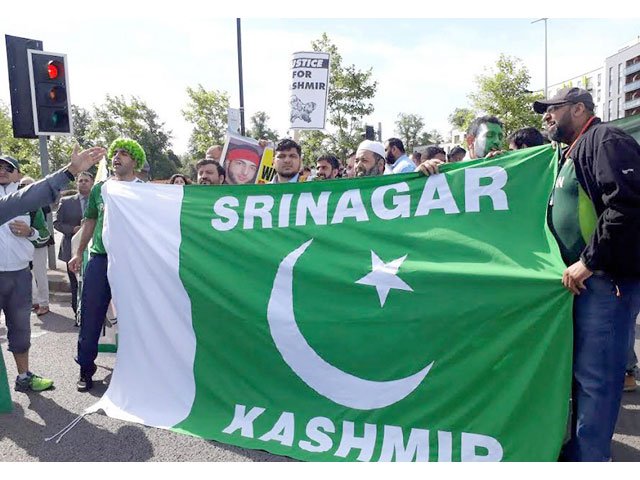 ---
As Pakistan and India clashed for the first time since August 2016 in the ICC Champions Trophy on Sunday, Kashmiris staged protests demanding freedom for the occupied territory.

The demonstrators gathered and chanted "Free Kashmir" and "Go India Go" slogans outside the Edgbaston Cricket Ground in Birmingham, according to the Kashmir Pulse.

https://twitter.com/iammomin_/status/871309494176894976

Some demonstrators were also seen holding pictures of the slain youth separatist leader Burhan Muzaffar Wani.

While there were various groups that could be spotted in the footage making rounds on the social media, one organisation's name visible on the banners read "Tehreek-e-Kashmir UK".

The campaign has reportedly been going in the UK for the last couple of days to garner attention for the ongoing freedom movement in Kashmir against the Indian rule.

A dangerous new phase of Kashmir conflict

On May 27, Indian forces killed eleven Kashmiris, including Sabzar Ahmad Bhat, Wani's successor, in held Kashmir. Wani was killed in July last year by the occupation forces, triggering mass protests.

Pakistan has been registering its strong protest over the use of pellet guns and other brutal measures to suppress the unarmed Kashmiris at the hands of the Indian forces.