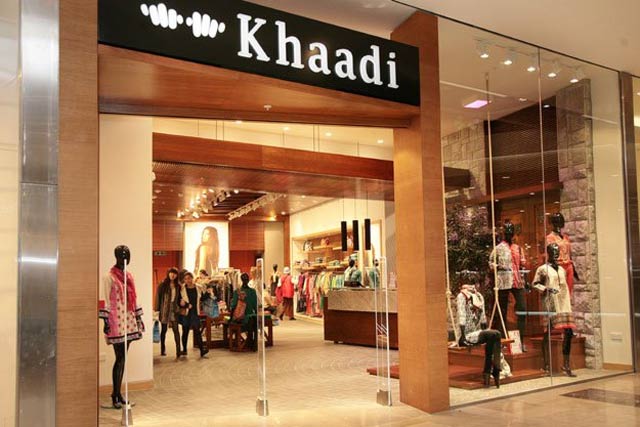 ---
KARACHI: Over the past few days, one of the biggest clothing brand in Pakistan, Khaadi has been in the spotlight due to allegations of mistreating workers and exposing them to inhumane conditions.

Demonstrations were held in Karachi and Lahore by the company's workers and activists who called upon the brand to acknowledge their wrongdoing. The brand allegedly fired 32 workers from its factory because they demanded minimum wage.

https://twitter.com/ChefShamsher1/status/868082604163178496

The brand is also accused of mistreating workers, forcing them to work 14-hour shifts and not providing them sick-leaves.


Working condition in #Khaadi. Factory gatewas closed for 32 workers. 124 more workers' job is on risk as all were veryactive in unionization pic.twitter.com/wT6H4sFrrA

— Zehra (@zehra1akhan) May 25, 2017


https://twitter.com/PropitiousOn3/status/869222035079143424

During the protests, the workers alleged that during their shifts, they are only allowed to visit the washroom twice and are forced to work overtime. Drinking water is also not provided to workers. At the protest, one said a fellow worker at the factory had asked to go home because he was extremely sick. "He couldn't even walk," said Sajjad Saleem. However, he was forced to stay at work. After he went home, his illness got worse, claims Saleem, and he passed away in the early hours of the morning.


Working condition in #khaadi. The managment of #khaadi bribe one female active member of union to withdraw from the case and offer her 500k pic.twitter.com/27Rmj7lTfD

— Zehra (@zehra1akhan) May 27, 2017


General Secretary of Home Based Women Workers Federation Zehra Khan claimed that the management of Khaadi had tried to bribe one female active member of union to withdraw from the case by offering her Rs500,000 to do so.

Workers' group urges labour law reforms

Lawyer and activist Jibran Nasir put up pictures of complaints filed against Khaadi by its workers. The complaints were filed with the National Industrial Relations Commission (Karachi Bench) and the Directorate Labour of Government of Sindh. "The contention in all complaints was abuse of workers by Khaadi whereby Khaadi had formed a "pocket union" exploiting the lacunas in the law and that union was not representing and the workers at large and addressing their grievances," he said.

"According to the complaints, workers were being given minimum salary sanctioned by laws, not entering into written contacts with workers, making them work long hours without necessary pay, not registering them for social security and EOBI and threatening workers with termination for wanting to form their own unions. Khaadi in response to the first two complaints submitted before the Commission that it wont terminate workers using illegal means. Still despite the undertaking 33 workers who filed the first complaint have been reportedly terminated. The other 125 who filed the complaint face the same threat."

[fbpost link="https://www.facebook.com/MohammadJibranNasir/posts/720352914826251"]

Khaadi official statement

However, in an official statement Khaadi rubbished the allegations calling them as a 'conspiracy'.


"Khaadi has viewed with concern the discussion on social media in recent days emanating from certain false news that have been spread and which seek to damage our reputation. Initially, our viewpoint was not to respond to what is nothing but malicious and libelous content, but we now feel we owe it to our patrons to clarify the matter. We therefore categorically confirm that Khaadi has NOT terminated 32 of its employees.




Another malicious story being spread and linked to the above is of the apparent attempted suicide of a young female worker. Why anyone should spread this outright lie is beyond understanding, but this just goes to show how some vested interests will stop at nothing to premeditatedly plan to try and cause reputational harm to Khaadi, and we intend to get to the bottom of this conspiracy.





Khaadi is a responsible corporate citizen. As a brand, we have endeavoured to maintain and adhere to the highest standards in all operations-which also includes following best practices with regard to our biggest assets, our employees. Our products are sourced through an array of third party suppliers. Khaadi has always endeavoured to promote our culture and heritage, and promote a positive image of Pakistan internationally, and will continue to do so.




Finally, we appeal to all to please do not share or spread news that is pure hearsay, or base your comments on speculative news, no matter shared by who, without fully knowing the facts yourself. We request this not only in the case of Khaadi, but as a general principle of social media engagement, as false rumours tend to escalate and can be quite damaging for others, whether it be brands or innocent people."




However, several, including The National Trade Union of Pakistan, refused to accept the brand's statement.




Speaking to The Express Tribune, President of Sindh Labour Federation (SLF) Muhammad Shafi Ghouri said, "Khaadi has about five units operating in Karachi and none of the units appoint workers directly, instead they rely on third party contractors to hire workers. The contractors only work to fill in gaps and the management and supervision of workers is done by Khaadi's permanent staff."




"Only 50 to 70 workers at Khaadi group's head office unit are permanent, while around 7000 to 8000 skilled workers are temporarily employed and are not registered anywhere, which is a violation of the law," Ghouri said, adding that Khaadi isn't the only brand responsible for such a violation, other brands like J. follow the same.




Sindh passes law to prohibit child labour




According to the SLF president, the minimum wage set by the government for unskilled workers is Rs14,000, however the skilled workers at Khaadi are being paid Rs13,000.




Further contradicting Khaadi's statement, Ghouri said, "What the workers are saying is 100 per cent true and no competitor is trying to defame Khaadi.




"Khaadi is threatening rest of the workers that if they form a union, they will also get fired."




When asked what can be done for the workers, Ghouri said, "If our labour department wants, a lot can be done for them. However, trade unions can only apply a certain amount of pressure, state functionaries will also have to play their role and take action against such cases."
COMMENTS (3)
Comments are moderated and generally will be posted if they are on-topic and not abusive.
For more information, please see our Comments FAQ