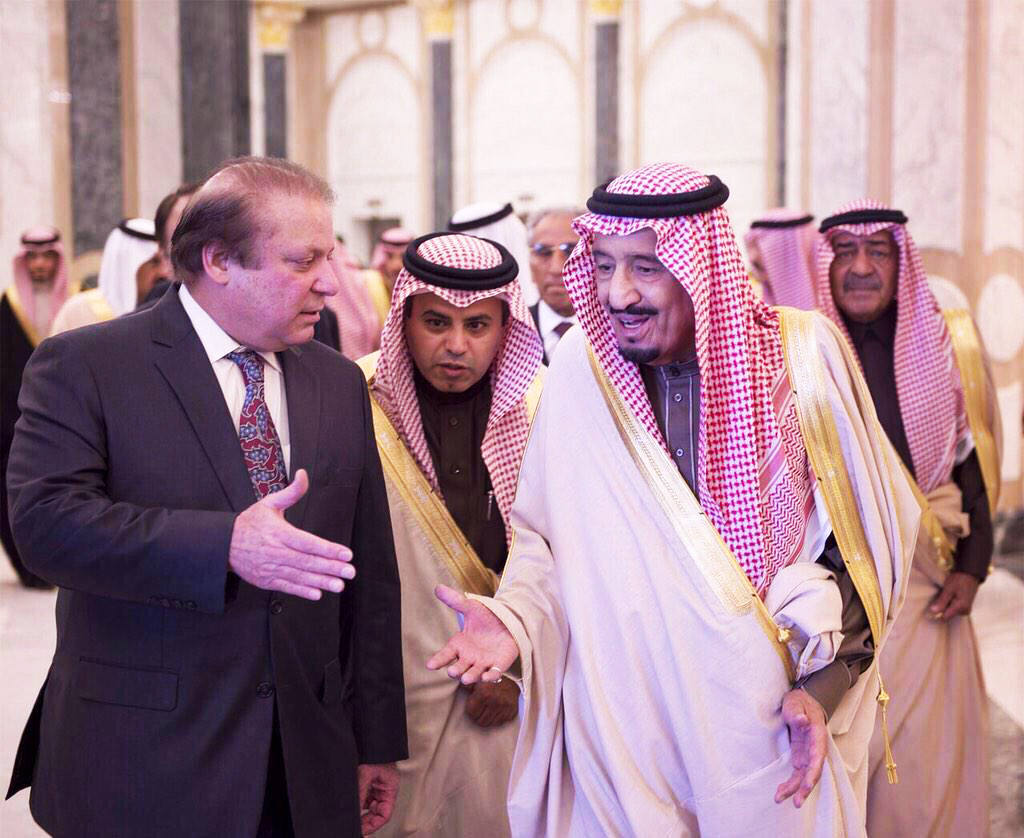 ---
ISLAMABAD: Pakistan has decided to draw certain 'redlines' for becoming part of the Saudi-led Islamic Military Alliance against Terrorism (IMAT) in an effort to avoid the negative fallout of its participation in the initiative that has potential to undermine ties with neighbouring Iran.

It was thought that the government had already joined the alliance when in April it granted permission to former army chief General (retd) Raheel Sharif to lead the 41-nation counter-terrorism alliance.

Officials, however, clarified that the final decision had not yet been taken.

What compelled Pakistan to have a second thought was the recent Arab Islamic-US summit in Riyadh where statements from Saudi authorities suggested that the alliance was meant to counter Iran as well as fighting terrorism.

US-Arab-Islamic Summit: Trump urges Muslim leaders to confront extremism

The government in principle agreed to be part of the Saudi initiative if its sole purpose was to fight terrorism and extremism, officials insisted. The final decision, however, will be taken once the terms of reference (ToRs) of the alliance are finalised, officials added.

The ToRs would be finalised during the meeting of defence ministers of the participating countries.

A senior official familiar with the development told The Express Tribune that Pakistan would present its set of proposals during the defence ministers meeting scheduled to be held in Saudi Arabia in coming weeks.

Pakistan, according to the official, would recommend that the alliance should have clear objective that is to fight terrorism. Any deviation from this goal will not only undermine the alliance but also lead to more divisions in the Muslim world.

"We are very clear that we will join this alliance only to fight terrorism," the official emphasised, adding that the government would stick to its stance.

Foreign office spokesperson Nafees Zakria also indicated that Pakistan had yet to take a final decision on the Saudi alliance.

"What we need to understand is that the Terms of Reference (TORs) of the alliance are yet to be finalised. The defence ministers of the participating countries will meet and discuss the modalities of the coalition. We must wait until we have all the information to comment on its outcome. We shouldn't indulge in speculations," Zakria clarified at the last weekly briefing.

The government already gave a public commitment that it would not become part of any initiative whose aim is to target any other Islamic country, including Iran.

Pakistan left with limited options in Saudi-led Islamic military alliance

Defence Minister Khawaja Asif on the floor of National Assembly assured that Pakistan would withdraw if the Saudi alliance turns out to be sectarian in nature.

Even Gen (Retd) Raheel before accepting the foreign job reportedly told Saudis that he would lead the grouping only if its main purpose was to fight terrorism and not aimed at any other Islamic country.

In order to avoid any strain with Iran, Pakistan pushed for mediation between Tehran and Riyadh. Islamabad even mooted the idea of inclusion of Iran in the alliance.

However, all those efforts could not succeed since Saudi Arabia and Iran have serious differences on regional disputes particularly the current hotspots in Middle East.

Main opposition parties—Tehreek-e-Insaf and Pakistan Peoples Party—have been calling for maintaining 'neutrality' in Arab-Iran rivalry.

But given longstanding strategic relationship with Saudi Arabia, Pakistan is unlikely to completely withdraw from the alliance.  Nevertheless, its participation would only remain confined to counter-terrorism efforts, officials stressed.
COMMENTS (24)
Comments are moderated and generally will be posted if they are on-topic and not abusive.
For more information, please see our Comments FAQ