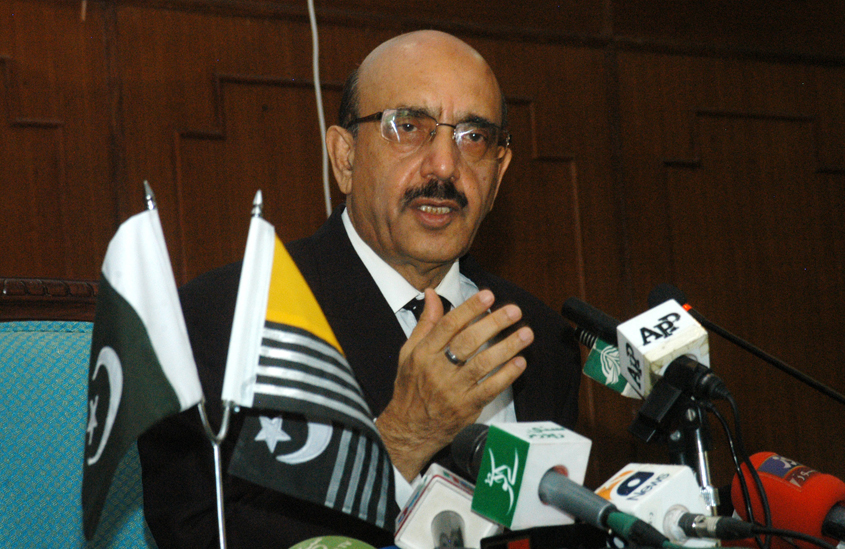 ---
ISLAMABAD: With the multi-billion-dollar China-Pakistan Economic Corridor continuing to be built, the president of Azad Jammu and Kashmir (AJK) has raised questions over Indian concerns over the project.

Addressing a one-day international seminar on the '' Belt and Road Initiative: CPEC and regional integration", organised by the Institute of International and Cultural Affairs in Islamabad, AJK President Sardar Masood Khan termed Indian objections over CPEC as fake and disingenuous.

India 'must address Kashmir issue to become part of CPEC'

A recent UN report has stated concerns that the China-Pakistan Economic Corridor may create more tension between India and Pakistan.

The report titled 'The Belt and Road Initiative and the Role of Escap' was released by the UN's Economic and Social Commission for Asia and the Pacific (Escap) at China's request.

The report considers the Pakistan-India dispute over Kashmir as a source of concern, stating CPEC might create "geopolitical tensions with India and ignite further political instability."

However, China on Thursday played down a UN report stating concerns that the China Pakistan Economic Corridor (CPEC) may create more tension between Pakistan and India.

Speaking during a regular press conference on May 25, Foreign Ministry Spokesperson Lu Kang said, "CPEC is neither targeted at any third party nor related to territorial disputes."



Published in The Express Tribune, May 27th, 2017.