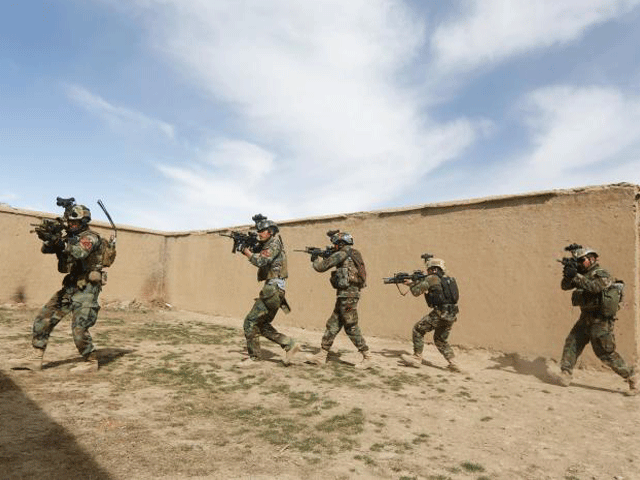 ---
KANDAHAR, AFGHANISTAN: At least 15 Afghan soldiers were killed when Taliban fighters attacked their army base in the southern province of Kandahar, the defence ministry said Friday, in the second such assault this week.

The attack in Shah Wali Kot district late Thursday came just three days after 10 Afghan soldiers were killed when Taliban militants stormed another base in the same area.

"The Taliban launched a coordinated assault on an army base last night (Thursday) in Shah Wali Kot district of Kandahar province," ministry spokesman Dawlat Waziri told AFP.

"Fifteen Afghan army soldiers were martyred and five others wounded."

A provincial official who spoke on the condition of anonymity gave a higher death toll of 20.

The attack comes as Taliban insurgents intensify their annual spring offensive and their strength is growing, more than 15 years after they were toppled from power in a US-led invasion.

Militant attack on Afghan army base kills 10 soldiers

It highlights a growing insurgent offensive in Kandahar, where security has relatively improved in recent years under the leadership of police chief and regional strongman General Abdul Raziq.

Raziq had lashed out at the central government in Kabul on Thursday, accusing them of a plot to destabalise his province.

"Some political figures within the National Unity Government are trying to destabilise Kandahar like (neighbouring) Helmand and Uruzgan provinces," Raziq  told a public gathering.

"Whenever there is an attack in Kandahar, the central government does not help."

The attack marks another setback for NATO-backed Afghan forces. It comes just a month after the Taliban killed at least 135 soldiers in the northern province of Balkh in the deadliest insurgent attack on an Afghan military base since 2001.

16 and pregnant, Malala finds refuge in hidden Afghan women's shelter

And in another deadly Taliban attack on security outposts in southern Zabul province on Sunday, local officials made desperate calls to Afghan television stations to seek attention because they were unable to contact senior authorities for help.

The battlefield losses have raised concerns about the capacity of Afghan forces, beset by unprecedented casualties and blamed for corruption, desertion and "ghost soldiers" who exist on the payroll but whose salaries are usurped by fraudulent commanders.

The Taliban launched their annual "spring offensive" in late April, heralding a surge in fighting as the US tries to craft a new Afghan strategy.

US Defense Secretary Jim Mattis last month warned of "another tough year" for security forces in Afghanistan.

The United States and several NATO allies are considering sending thousands more troops to break the stalemate against the resurgent militants.
COMMENTS
Comments are moderated and generally will be posted if they are on-topic and not abusive.
For more information, please see our Comments FAQ