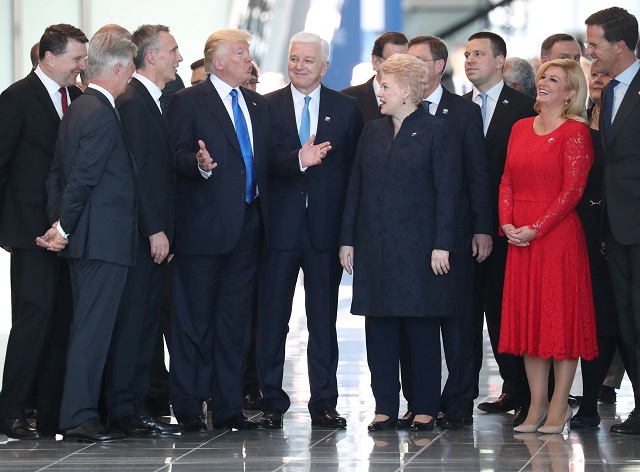 ---
BRUSSELS: US President Donald Trump muscled himself to the front of the world stage in Brussels on Thursday, firmly pushing aside the leader of soon-to-be member Montenegro at a NATO summit.

Footage showing the leaders caught Trump pushing his way past Prime Minister Dusko Markovic, then confidently adjusting his suit as he emerged in the front of the group, closer to NATO head Jens Stoltenberg.


Did Trump just shove another NATO leader to be in the front of the group? pic.twitter.com/bL1r2auELd

— Steve Kopack (@SteveKopack) May 25, 2017


Video of the incident went viral and came as Trump delivered a tough message to NATO allies to dramatically increase their defence spending to ease the financial burden to the United States.

Trump presses NATO on spending, terror


You tiny, tiny, tiny little man.
pic.twitter.com/mP3mad6cMt

— J.K. Rowling (@jk_rowling) May 25, 2017
So in ONE DAY, Trump managed to: Shove Montenegro's PM. Tell NATO it's over. Call Germany "evil, very evil" & threaten trade war w/EU.

— John Schindler (@20committee) May 25, 2017
Wow. Trump shoves Montenegro's leader to get to the front of the group at NATO Summit. pic.twitter.com/2SmbyrI9dQ

— Jack Moore (@JFXM) May 25, 2017


https://twitter.com/gregpinelo/status/867768064737193985



White House spokesperson Sean Spicer, when asked about Trump moving past Markovic, said he had not seen the video but assumed the US president was moving to his designated spot.

The NATO mission of Montenegro, which is joining the Western military alliance against stiff opposition from Russia, did not immediately respond to a request for comment.

The small Balkan country will formally become NATO's 29th state in June but Markovic joined the Brussels summit, Trump's first, and a ceremonial opening of the alliance's new headquarters.

Trump flipflops on NATO, China, Russia, Syria, trade and more

During the leaders' joint photo-shoot in the new building, Canadian Prime Minister Justin Trudeau encouraged his counterparts to wave for the cameras. Some did as Trudeau requested, but Trump did not raise his arm.


Pool Report from NATO photo: Trudeau said, "Everybody wave!" Some followed Trudeau's command, but not Trump, who did not raise an arm.

— Julian E. Barnes (@julianbarnes) May 25, 2017


Trump smiled briefly, but otherwise kept a serious expression on his face for the brief session.
COMMENTS
Comments are moderated and generally will be posted if they are on-topic and not abusive.
For more information, please see our Comments FAQ