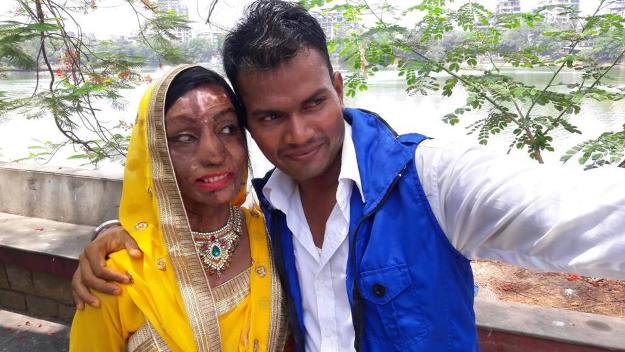 ---
Lalita Ben Bansi, a 26-year-old acid attack victim, got married to the love of her life in Mumbai on Tuesday.
The bride said "miracles do happen" as she got ready for her wedding reception in Mumbai.  "Who would have thought an acid attack and 17 surgeries later I would find love. But it happened. And it all started with a wrong number," she said.
The acid victim's life had taken a turn for the worse back in 2012 when her cousin had thrown acid on her over a petty argument. Bansi had to undergo many surgeries after the incident but "so many surgeries later, too, my face was deformed. In need for change, I moved from Azamgarh to Kalwa in Thane near Mumbai," she said.
Wedding reception: Two women, child injured after using acid-laced water
Bansi had met the love of her life, 27-year-old Ravi Shankar, thanks to him dialling a wrong number. The couple then got to know each over the past two months and finally decided to tie the knot on Tuesday. "Shankar taught me to believe in love. It is a fresh start," she said.
The blushing groom said he had liked her from the beginning and only had to convince his mother. "I had to only convince my mother to accept my choice. I had to make Lalita believe that she too had the right to a better life."
Shankar currently owns a petrol pump in Ranchi and works as a CCTV operator at a private firm in Kandivli. But the couple are yet to decide where they will settle, "We will decide whether to settle in Mumbai or Ranchi depending on what Lalita wants," says Shankar.
President of the Saahas Foundation which works with acid survivors said that ""There are 21 such women in the foundation. Actor Vivek Oberoi met Lalita at one of their functions and agreed to pay for her surgeries in the future."
This article originally appeared on Hindustan Times.