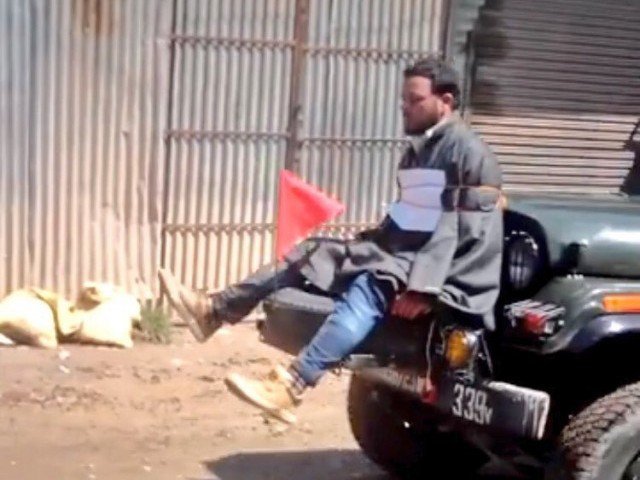 ---
ISLAMABAD: Pakistan strongly condemned on Thursday the recent move by Indian army to honour one of its officers, who used a Kashmiri youth as a human shield in the disputed Kashmir region.

"Awarding Major Leetul Gogoi, who brazenly used a Kashmiri youth as a human shield, is condemnable," Foreign Office spokesperson Nafees Zakria told reporters at the weekly briefing.


While an Army soldier suspected of torture is rewarded, Farooq awaits justice; #Kashmir. Read full: https://t.co/perFGii4ps pic.twitter.com/n943FdO3Ib

— Amnesty India (@AIIndia) May 23, 2017


"It is a crime and an insult to humanity. Amnesty International called awarding a move to condone human rights abuses in IOK," Zakria added.

The strongly worded reaction came after the Indian army major, Leetul Gogoi of the 53 Rashtriya Rifles, who came up with the idea was awarded a military honour on May 22.

Indian army major who tied Kashmiri man to jeep awarded military honour

"Major Gogoi has been awarded Chief of Army Staff's Commendation Card for sustained efforts in counter-insurgency operations," Indian army spokesperson Aman Anand had said.

A video showing a Kashmiri youth being used as a human shield by the Indian army in held-Kashmir, had surfaced online last month.

The clip showed a young man tied in front of an army vehicle in what seemed to be an apparent attempt to shield the Indian army from protesters. In the background, an army soldier could be heard saying: "Those who throw stones will meet the same fate."

Indian officer who tied Kashmiri youth to jeep given 'clean chit'

The award triggered a debate within India with nationalists strongly backing the move while many particularly in Kashmir strongly denouncing the move.

The Foreign Office spokesperson pointed out that this was not the first time that the Indian occupation forces had displayed such cowardice and inhumanity.

"In Indian occupied Kashmir, the Indian occupation forces are involved in acts of grave violence against civilians, rapes, extra-judicial murders, arson attacks, kidnappings, violence against Kashmiri children and desecration of mosques and other sacred places," he alleged.

"International community, particularly, the UN should take cognisance of this act," Zakria demanded.

Launching scathing criticism, the spokesperson said the Indian army was criminal in its behaviour against civilians.

"Indian occupation forces in IOK have been targeting Kashmiri civilians across LOC in AJK. Many hundreds have been killed," he said.

He maintained that since 2014, unprovoked ceasefire violations had increased significantly; taking toll on hundreds of innocent Kashmiris lives in AJK and their properties.

"Yesterday, even when UNMOGIP Team was on visit to LOC, Indian occupation forces committed ceasefire violation from IOK," Zakria told reporters.

Indian actor Paresh Rawal proposes using Arundhati Roy as human shield

He also referred to Indian National Conference leader, Agha Roohullah, addressing a function in Srinagar revealed that India was creating ISIS in IOK. "The objective is to malign the indigenous movement of Kashmiris in IOK for their right to self-determination."

Islamic military alliance

Responding to questions about the Saudi-led military alliance, the spokesperson said the terms of reference of the alliance were yet to be finalised. The defence ministers of participating countries would meet and discuss the modalities of the coalition, he added, insisting that until those TORs were finalised one must not indulge in speculations.

Explaining as to why Prime Minister Nawaz Sharif was not given an opportunity to speak to the US-Arab Islamic summit, Zakria claimed this was due to serious shortage of time available on that evening.

"Nearly 30 plus Muslim leaders were expected to deliver their remarks. However, due to severe paucity of time (as the Summit started behind schedule) only a few leaders, besides the Saudi king and the US president, could make their remarks on the occasion," he clarified.

He added that the king personally apologised to the remaining Muslim leaders, who could not get the opportunity to speak.

He also contested the claims that US President Donald Trump ignored Pakistan's sacrifices while terming India a victim of terrorism in his speech.

"If one closely examines the speech, he named those countries which were not present at the summit. These included Russia, China, South Africa, Europe and India," the spokesperson said.

In the paragraph that followed, he mentioned the sacrifices and contributions of Muslim countries, Arab states and Middle Eastern countries en-masse, and highlighted how these nations suffered at the hands of terrorism, he said.