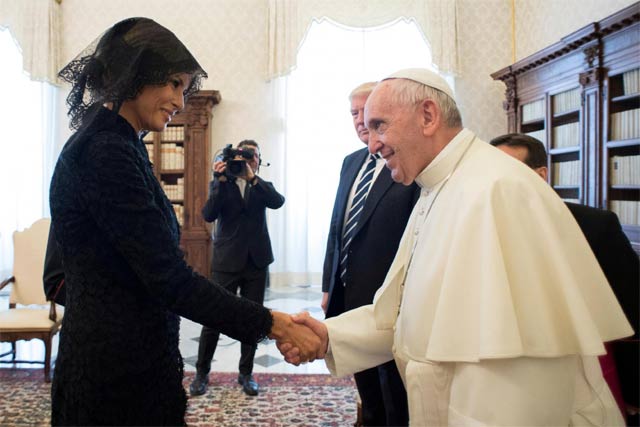 ---
US First Lady Melania Trump raised eyebrows as she arrived at the Vatican on Wednesday to meet Pope Francis, wearing a veil which she chose to forego during her trip to Saudi Arabia.

Melania, who is accompanying Donald Trump on his first foreign tour since he became president, wore a long-sleeved Dolce & Gabbana black dress and a black veil, a tradition followed by several first ladies before her. Other women accompanying Melania, including Ivanka Trump, wore black dresses and veils.

Melania Trump foregoes headscarf on Saudi Arabia trip

There was some confusion, however, over why the first lady wore a veil at the Vatican while she didn't wear a headscarf in Saudi Arabia.

https://twitter.com/ahmed/status/867327787945918466


So basicly a headscarf in the middle east is a sign of submission but when visiting the pope it's part of our culture? pic.twitter.com/bhcnY0Rt3x

— AafkeVultink 🌹🐟 🇪🇺 😷 ◼️ ◼️ ◼️ ◼️ (@AafkeVultink) May 24, 2017
Ladies and Gentlemen, THIS is what hypocrisy looks like: Melania and Ivanka chose reverence for Western Christianity but not Muslim culture. pic.twitter.com/KSG7R46Ecm

— Amee Vanderpool (@girlsreallyrule) May 24, 2017


Stephanie Grisham, a spokesperson for the first lady, said Melania's decision to wear a black lace veil known as a mantilla followed Vatican protocol that women who have an audience with the pope must wear long sleeves, formal black clothing and a veil to cover their head. In Saudi Arabia, however, the government did not request that she wear a head covering, Grisham said, according to the Associated Press.

According to Rocco Palmo, editor of Whispers in the Loggia, a site on church news and politics, foreign dignitaries usually follow a dress code when visiting the Vatican, although that dress code started to relax under Pope Benedict XVI. He added that only Catholic queens and the princess of Monaco can wear white while meeting the pope. Over the years, Pope Francis has relaxed many rules his predecessors followed in terms of dressing. "It's been part of his message of simplicity," Palmo said.




Meanwhile, Muslim women in Saudi Arabia, are required to cover themselves from head to toe, but foreigners can choose if they want to wear a headscarf or not. Previously, Hillary Clinton and Laura Bush also visited Saudi Arabia without a headscarf.

Trump arrives at Vatican to exchange views with Pope Francis

"I think people are reading into it and misinterpreting it," said Jane Hampton Cook, a presidential and first lady historian. "The pope is the head of a church. The king of Saudi Arabia is the head of state. There is a difference between seeing a religious leader vs showing respect to a king who's the head of state."

Even though Melania didn't cover her head on her visit to Saudi Arabia, she was dressed conservatively in a black jump suit. Similarly Ivanka, wore a full length dress with full sleeves but also decided to forego the scarf.

This article originally appeared on The Washington Post.
COMMENTS (11)
Comments are moderated and generally will be posted if they are on-topic and not abusive.
For more information, please see our Comments FAQ