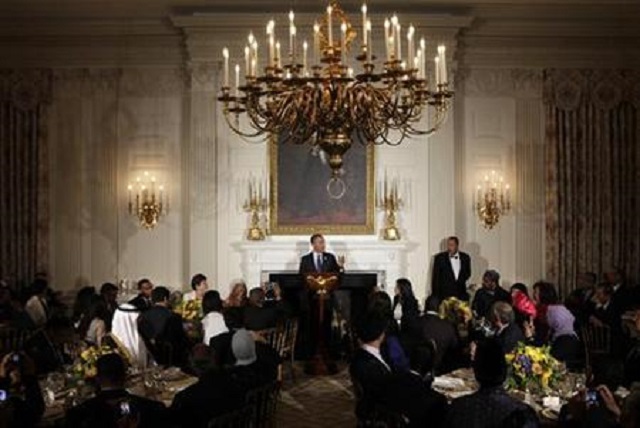 ---
Jihad Saleh Williams, who has worked as a Ramazan wrangler for official Washington since nearly a decade. This year, however, he says it is "an off year" for Ramazan at Trump's White House.

Williams, who is the government liaison for the nonprofit Islamic Relief, saw the list grow yearly as more federal officers started keeping iftars. Organisations such as the World Bank Organisation also signed on. A celebration in 2009 where 1,000 people came to the US capital is one that Williams is especially proud of.

Trump welcomes Egypt's Sisi amid questions on rights record




"An off year"

The gradual increase of iftars over the past eight years has come to an abrupt halt under Trump's presidency. Many claim that this is due to the president's continuous bashing of Islam and inciting hate against Muslims.

Ramazan is starting at the end of the week and no invites have been issued so far, raising questions as to whether Trump will continue the White House iftar tradition and if so - would anyone be inclined to attend it?

Meanwhile, Muslims are on the look out for how Trump handles the holy month, a month where the White House recognises the 3.3 million Muslims that reside in the US.




White House fumes after Moscow releases Trump meeting photos

Muslims in Washington speculated that Trump may host an iftar event for foreign diplomats after his semi-conciliatory remarks at the summit in Saudi Arabia this month. However, the idea was put aside after the Manchester bombings took place at the Ariana Grande concert leading to anti-Muslim backlash on social media.




Wealthy White House staffers' finances detailed in new disclosures

Iftar events started during Bill Clinton's presidency when the then First Lady Hillary Clinton had presided over an Eid celebration 1996. Iftars during the Bush era were organised by the State department for Muslim diplomats. While under Obama's presidency the events turned into a celebration of Islam's presence in the US with stories of Muslim doctors, soldiers, teachers and even Olympians.

Williams feels that the Ramazan events helped Muslims have access to the government and walk the White House halls in order to understand they are constituents. He recalls the pride he felt when hundreds of Muslims showed up to such an event.

Williams says "I wanted them - as Sudanese, as Desis, as Arabs, as African-Americans - to know that this is their building. They own it. I wanted them to feel acclimated to walking those halls, to knowing that this is their space."

This article originally appeared on Buzzfeed News
COMMENTS (1)
Comments are moderated and generally will be posted if they are on-topic and not abusive.
For more information, please see our Comments FAQ