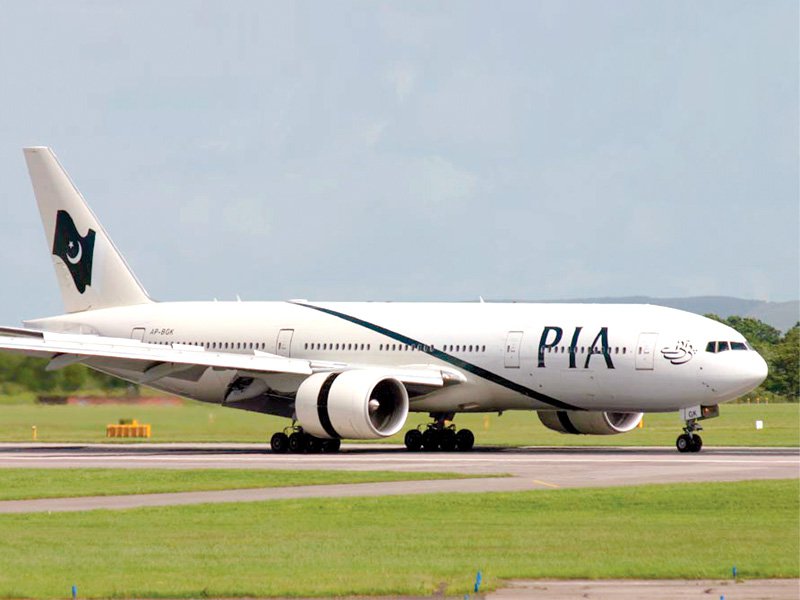 ---
RAWALPINDI/PESHAWAR: The Anti-Narcotics Force (ANF) on Monday foiled a bid to smuggle contraband onboard a London-bound flight after the force recovered about 20kg from Pakistan International Airlines (PIA) flight PK-785 at the Benazir Bhutto International Airport (BBIA) just before its take-off to Heathrow.

The ANF found the heroin hidden in different parts of the plane after carrying out a search of the plane before take-off with the help of PIA security staff.

An ANF official, who spoke on the condition of anonymity, said, "Two packets of heroin each weighting 10 kg were found in a closet used to keep catering items in the plane." He added that the heroin was recovered with the help of sniffer dogs.

He also revealed that the plane had just landed at the Islamabad airport at 10:25 am and was scheduled to take off for London as flight number PK-785 at 01:15pm.

15kg heroin seized from PIA flight at Karachi airport

When the scheduled search was started, no passenger was on board as only sweepers and catering staff were busy performing their duties, said the official. He added that two catering trolleys were inside the plane when it was searched.

The ANF official disclosed that after the recovery of the heroin, they took 14 PIA employees into custody. The employees are from engineering, catering, and sanitation departments.

The arrested employees were later shifted to ANF's investigation centre in Iqbal Town. He said that the mobile data of all the accused had been obtained and would be examined.

The plane was cleared and the flight took off for London at about 03:45pm.

Heroin found on PIA flight to London

Meanwhile, Adviser to Prime Minister on Aviation Sardar Mahtab Khan, while talking to the media, said further inquiry into the recovery of the narcotics was underway.

The adviser added that the search of planes was launched after heroin was seized from a PIA plane at London's Heathrow airport about a week ago.

It was also reported that Maryam Nawaz, daughter of the prime minister, was scheduled to fly to London in the same flight. She reportedly returned to Islamabad from the airport after she learnt that narcotics had been found on the plane. However, she later took the same flight after the plane was cleared to fly.

This was also the second case to surface this month, as on May 16 PIA crew members were detained by Britain's National Crime Agency after heroin was found on a PIA flight at London's Heathrow Airport.

PIA employee threatened

A PIA steward who has been dealing with international flights to Europe alleged on Monday that he was being threatened and was attacked twice by unidentified men to transport passports and money on their behalf.

Saifullah Jan, while talking to The Express Tribune, said some unidentified men threatened him with 'dire consequences' if he refused to follow their orders.

PIA's accumulated losses swell to Rs282b, up 7.3%

"Time and again they have contacted me, and on my refusal to follow their dictates they threatened me with dire consequences," Jan said. He added that he had also filed a complaint with the Mathra Police in Peshawar some three months ago; however, he was still receiving calls form the same men.

Jan said, "Those involved in illegal activities keep me under observation and had also showed their presence one night just as I was leaving for my flight." He added that he saw them outside his hotel.

He also revealed that they attacked his house at around 2am on Friday, adding that he had filed a case against unidentified men.