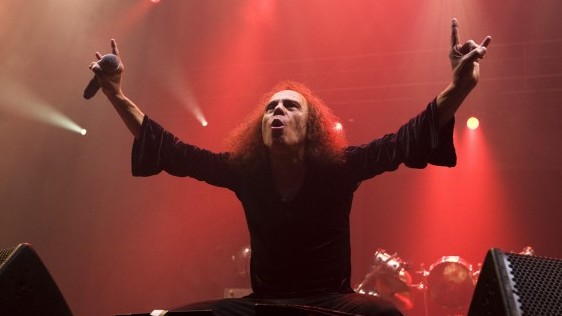 ---
Heavy Metal giant Ronnie James Dio (Black Sabbath, Rainbow, Dio, Heaven & Hell) passed away on Monday at the age of 67.

Dio had been fighting a short battle with cancer. The heavy metal icon was on his way to recovery after being diagnosed with stomach cancer in November, with reports indicating that the main tumor had shrunk considerably and visits to the treatment center had been reduced.

His wife made the following statement on the Dio website:

"Today (May 16th) my heart is broken, Ronnie passed away at 7:45am. Many, many friends and family were able to say their private good-byes before he peacefully passed away. Ronnie knew how much he was loved by all. We so appreciate the love and support that you have all given us. Please give us a few days of privacy to deal with this terrible loss. Please know he loved you all and his music will live on forever."

Dio had previously played with Rainbow, Black Sabbath and his own band, and is also controversially known to be the creator of the devils horns flashed by metal heads the world over. Dio has been an influence on every metal band or artist coming after the 80s, and the tributes pouring in since his passing are a testament to the legacy he leaves behind.

Artists ranging from Iron Maiden, Steve Vai to Motorhead have paid their tributes to the legend that had played a major role in heavy metal. His former band mate in Black Sabbath and Heaven & Hell, Tony Iommi stated "I've been in total shock, I just can't believe he's gone".

Dio was part of six great heavy metal albums namely Rising, Long Live Rock 'n' Roll, Heaven And Hell, Mob Rules, Holy Diver (also one of his most famous singles) and The Last In Line. He had recently released an album alongside his former band mates from Black Sabbath under the name of Heaven & Hell, who were all set for a European tour including a date with the Big 4 of thrash metal at Sonisphere. All dates were cancelled due to Dios deteriorating health.