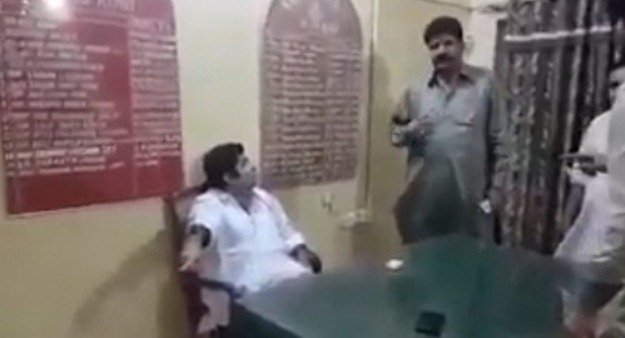 ---
HYDERABAD: Pakistan Tehreek-e-Insaf's (PTI) Umerkot-based leader, Nawab Zaid Talpur, who has been booked for charging upon a local police station, has claimed that he has been falsely implicated in the case.

"What was shown to have transpired at Kunri police station [in Umerkot district on May 2] was just one aspect of the situation," claimed the PTI leader who has been booked in an FIR along with five others, including his son, for assaulting policemen at the police station.

ATC grants police six-day custody of PTI leader's son

"The SHO himself made me sit in his chair," he said, referring to the leaked video of the incident in which he is seen sitting in the officer's chair and reprimanding the police.

Talpur obtained protective bail from the Balochistan High Court. On May 19, he was granted another six-day protective bail by the Sindh High Court Hyderabad Circuit Bench.

The police arrested his son, Hassan Talpur, on May 3 and another accused, Yaqoob Solangi, a few days later. He argued that the controversy was a reaction from his uncle, Pakistan Peoples Party (PPP) MNA Nawab Yousuf Talpur, and cousin, MPA Taimur Talpur, against his move to join the PTI in April.

PTI leader sparks social media outrage after videos show him humiliating police

"Our political opponents couldn't tolerate our politics," he said. "They are using the police against us. I was trapped in this incident through a conspiracy by the ruling PPP's local leaders."