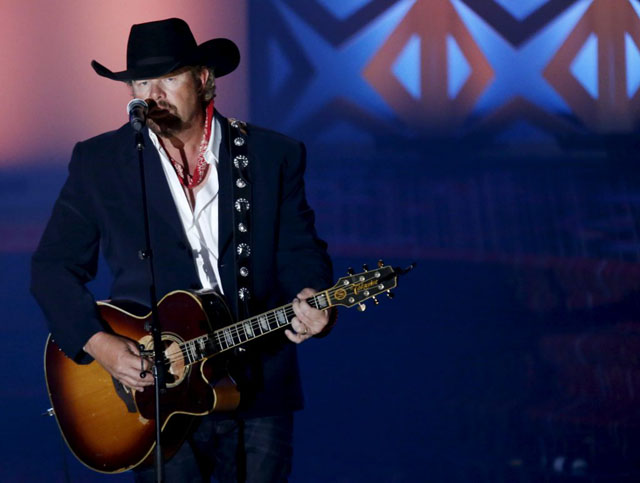 ---
American country music star Toby Keith is joining Donald Trump on his trip to Saudi Arabia.

Keith will be performing at a free, men-only concert in Riyadh, Associated Press reported.

The country musician known for his songs I Love This Bar, Drunk Americans and I Like Girls That Drink Beer left many on Twitter confused. Alcohol is strictly prohibited in the Kingdom and unrelated men and women are restricted from mingling in public.

It sounds crazy enough to be satire...


Toby Keith to perform in Saudi Arabia.

This is not The Onion.https://t.co/q3iQZ0z7QB

— Kassy Dillon (@KassyDillon) May 18, 2017
The irony that is Toby Keith performing for Saudi Arabians.

— 🖤M Monroe🌟🍾💋🧚🏽‍♀️ (@HabitualHabitue) May 19, 2017


Some just knew the entire trip was going to be a disaster:


A Trump speech on Islam followed by Rabeh Saqer and freaking Toby Keith. Let's pray they televise this entire disaster. pic.twitter.com/vzwirGuVqA

— Tobias Schneider (@tobiaschneider) May 18, 2017


https://twitter.com/GMPaiella/status/865217366472437761

Muslim leaders invited to summit with Trump: Saudi media

While some took a jab at Keith's music:


.@TobyKeithMusic is having a concert in the middle east for guys only.

Its nice to see women winning over there for once

— carlo flossi (@adamvales) May 19, 2017


https://twitter.com/seanomydog22/status/865444102422188032


Quote of the day-Being banned from attending a Toby Keith concert is, coincidentally, the one and only perk of being a woman in Saudi Arabia

— Bev Chicotel (@BChicotel) May 19, 2017


Saudi entertainment website Lammt is advertising the event and said the concert is free and open to men only. An Arabian lute player will be performing with Keith.

Keith previously performed at Donald Trump's inauguration in January, saying it was an 'honour' to do so regardless of who is in office.

This story originally appeared on Huffington Post
COMMENTS (1)
Comments are moderated and generally will be posted if they are on-topic and not abusive.
For more information, please see our Comments FAQ