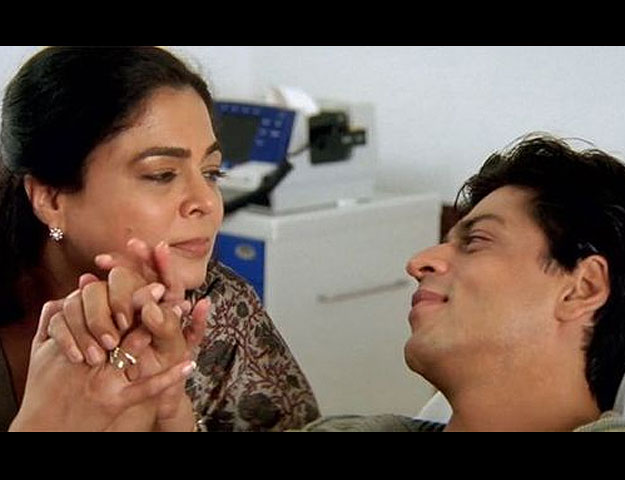 ---
Bollywood's quintessential mom Reema Lagoo passed away early on Thursday morning, after suffering a cardiac arrest.

Reema always had a flair for acting, even as a child, and her talent was noticed as soon as she made it to Marathi stage and films.

Bollywood's quintessential mom Reema Lagoo passes away

However, the actor carved out a completely new identity for herself upon joining Bollywood. Her face became synonymous with the middle-aged, modern yet understanding mother; one who would be the source of much-needed wisdom in the lead actor's life.

Although her filmography crosses four decades, here are a few of her best performances that will be etched in our memory forever.

1. Hum Aapke Hain Kaun




If it's Bollywood movies we're talking about, we cannot help but put a masala film at the top! Reema portrayed a doting and friendly mother, a caring mother-in-law and an equally responsible wife here, bringing our attention on the different roles a woman plays every day in our lives. Besides, her sweet smile brought a lively atmosphere to the whole film!


From angry young man to angry father: Vinod Khanna's cinematic voyage

2. Hum Saath Saath Hain




This film sees the Reema as a person who transforms from a doting mother to a selfish step-mother. In fact, the same transformation of her character is what the climax of this multi-starrer film rests on.

It might be quite easy to think of, but it is equally difficult to portray such a multi-faceted character onscreen, especially in front of an audience that is not used to such negative attributes in a Bollywood mother.

3. Kal Ho Na Ho




A modern day woman and a best friend-cum-mother to Aman Mathur (played by Shah Rukh Khan) Reema brought perfect poise and elegance to her role with her acting skills and charming smile.

Far from the stereotypical anxiety-stricken parent, Reema made sure her character came to terms with her son's fatal disease as gracefully as only she could.

B, Vinod Khanna starrer 'Amar Akbar Anthony' inspires Harvard book

4. Vastaav




In Vaastav, we see Reema in one of the most challenging characters of her career. She's not only a loving mother here but one who has to live with the drastic transformation of her son, who has suddenly chosen the path of notoriety. They both become each other's strengths and weaknesses and this dilemma breathes new life into the film.


5. Kuch Kuch Hota Hai




In Kuch Kuch Hota Hai, Reema played the mother of Anjali, portrayed by Kajol. Where she really steals the show in this Bollywood classic is when she openly asks her daughter whether she is happy with her fiance or not. That was one epic supermom moment in Indian film history and Reema nailed it!


Have something to add in the story? Share it in the comments below. 
COMMENTS (4)
Comments are moderated and generally will be posted if they are on-topic and not abusive.
For more information, please see our Comments FAQ