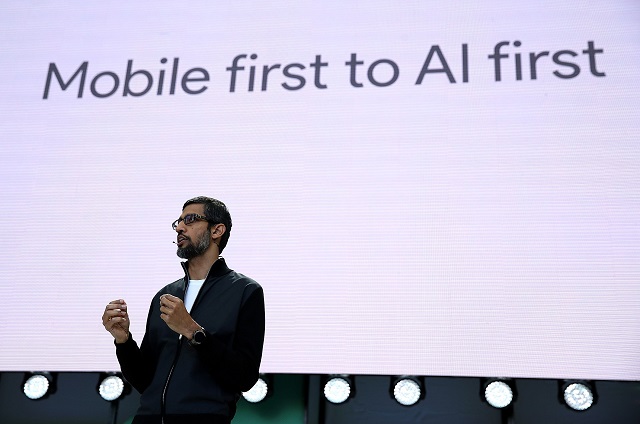 ---
Mobile phone apps took center stage at Google's annual developer conference on Wednesday as the search giant announced new features for its digital assistant and its popular photo app while devoting little time to the Android mobile operating system.

Addressing an audience of thousands of developers in Mountain View, California, Google executives delivered a broad-based update to their product portfolio which also included a slate of new features for the Google Home speaker, a job search tool and even a set of new virtual reality headsets.

In a sign of the ongoing strategic importance of Google Assistant, the company's artificial intelligence-driven, voice-controlled digital assistant, Google announced it would make the product available on Apple iPhone, making a play for the higher end of the smartphone market and challenging Apple's Siri feature on its own devices.

Google Home will now talk to your GE Appliances




What's more, the assistant will soon be able to complete transactions and supply information about objects captured by the smartphone's camera, executives said.

But several analysts noted that the emphasis on the assistant and other apps like photos and maps, which run on many types of devices, resulted in the company's Android operating system -- long the cornerstone of Google's mobile strategy -- getting relatively little attention during the presentation.

That reflects a recognition by the search giant that the assistant and other apps will be increasingly important to its future, said analyst Jan Dawson of Jackdaw Research. The strategy helps the company sidestep some of the complications of developing new features for the vast Android ecosystem, where only a fraction of devices are running on the latest version of the operating system, he noted.

"This is partly a concession to the fact that whatever they put into Android, most users don't see it for a couple years ... and a lot of their best, most attractive, most valuable users are going to be on other platforms," Dawson said. "They need to put that functionality where users are."

The Google Assistant debuted last year on the company's own hardware, and Google has gradually extended the tool to devices from other manufacturers running on its Android operating system.

Google, Microsoft, Apple and Amazon.com are competing to establish the dominant voice-powered digital assistant, which many in the industry believe will supplant keyboards and touch screens as a primary way that users interact with technology.

"Humans are interacting with computing in more natural and immersive ways," Google CEO Sundar Pichai told the audience. "We've been using voice as an input across many of our products. We've had significant breakthroughs."

The company is also gaining traction with its photo app, which now reaches 500 million users regularly, Pichai said. To drive greater usage of the app, Google will now make suggestions to prod users to share images and allow them to order physical photo albums.




Pichai also announced the company will expand its search engine with a new jobs tab that will allow candidates to filter postings by criteria such as wages and commute time.

OMD and Google launch Pakistan's First Programmatic campaign

Google, which gets most of its revenue from its dominant search engine, also released a host of new features for Google Home, a speaker released last year. Users will soon be able to make phone calls using the device, and the HBO Now streaming service, owned by Time Warner, will be integrated as well.

While Amazon's Echo speaker has emerged as the most popular device in the category, Google repeatedly touted its ability to use artificial intelligence to identify multiple users, an edge it has over Amazon.

"Google was putting forward a message about artificial intelligence and how they are including the technology in virtually every aspect of their products and services," said analyst Brian Blau of Gartner. "They really pushed that message hard."

Google also announced that more than two billion devices powered by Android software are used monthly in a freshly passed milestone.

The coming version of Android, referred to simply as "O" for the time being, will also have boosted artificial intelligence features along with enhanced security, executives showed.

Google is also crafting a lighter version of Android, referred to as "Go," designed for maximum performance on low-cost, entry-level smartphones in developing countries where internet bandwidth is lean or expensive.

Google said that while it is happy with the momentum of its Daydream virtual reality platform based on using smartphone as screens in headsets, it is working with partners on stand-alone virtual reality gear.

Partners in the endeavor include Vive-maker HTC and Lenovo, according to Google virtual reality team vice president Clay Bavor.

The gathering, which attracted some 7,000 developers on site and had thousands more watching online, focused on software with little mention of hardware, noted analyst Blau.

"There is a continuing trend where devices are becoming devalued and what is on the screen is becoming more valuable," Blau said.

"With AI, all the apps are getting upgraded so they don't need new hardware."