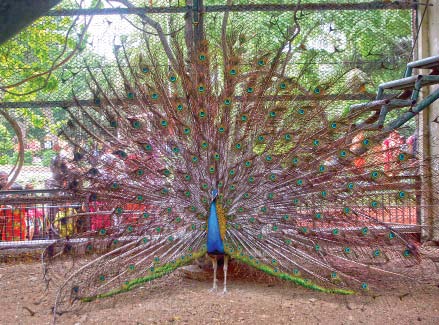 ---
KARACHI: After the death of more than 300 ailing peafowls in Thar since February due to Newcastle disease, officials of wildlife department have become active, claiming that the actual figure of the deaths is only 72.

The teams have started operating in various areas of Mithi, Diplo, Nangarparkar, Islamkot and Chachhro to protect the peafowls from the outbreak of this disease. However, the local people and wildlife experts claimed that the government has not yet finalised any plan.

"There are more than 1,300 villages in Thar and officials of wildlife do not have access in many areas. Hundreds of deaths of peafowls go unreported," said Siddique Dal, community activist, who has been campaigning against the deaths of peafowls. He added that these officials are hiding the facts and the situation is precarious.

After 27 peacocks die in Thar, Sindh CM takes forest dept to task

The wildlife officials have claimed that the deaths toll is 72, whereas according to the local activists, the number might be above 300. According Dal, Diplo, Nagarparkar, IslamKot, Chachro, Mithi areas are highly affected by the disease, which is causing the deaths of the peafouls.

Hyderabad deputy conservator Ghulam Sarwar Jamali told The Express Tribune that only hype was being created over the deaths of peafowls, while the actual deaths are not more than 72 in last four months.

"The heatwave is the actual cause of these deaths, due to which the peafowls do not eat properly, face respiratory problem and become weak," he said. "In the first spell of the heatwave, around 27 deaths were reported while the situation got worse in April when 20 peafowls died within three days only," he said, adding that they have received the figure of 25 deaths in current months.

Over 50 peacocks die of fatal disease in Tharparkar

According to him, teams have been formed on the orders of government, which have set up camps in various villages to treat the ailing peafowls. "We are giving vitamins and anti-biotic to the ailing birds," he said. As per a survey conducted by the wildlife department last year in around 200 villages of Thar, there are more than 53,000 peafowls, Jamali said.

According to Asif Sandhelo, a senior official of World Wildlife Fund, this has been happening since past several years due to lack of rain. He said the virus is deadly and it spreads to other peafowls as well.

This disease eliminates from the region after rainfall, he said, adding that one of the major issues is deforestation in the area. According to him, during the day time these peafowls sit in the shade as temperature usually rises to 45°celsius, however, due to massive deforestation in the area, these birds do not have shades anymore.
COMMENTS
Comments are moderated and generally will be posted if they are on-topic and not abusive.
For more information, please see our Comments FAQ