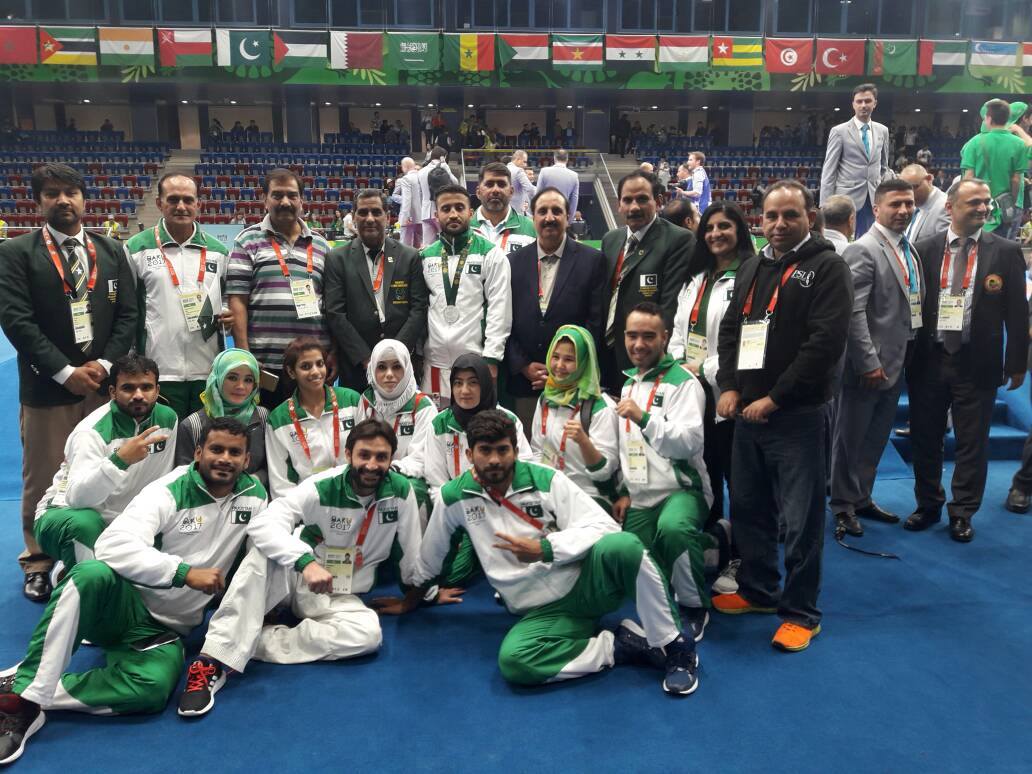 ---
KARACHI: Pakistan secured their first podium finishes of the 2017 Islamic Solidarity Games in Baku, Azerbaijan as Saadi Abbas grabbed a silver medal in the -75kg karate category, followed by shooter Muhammad Khalil Akhtar bagging a bronze.

Abbas, a former US Open and Asian champion, made it to the final of the -75kg kumite competition but fell at the last hurdle against the hosts' Rafeal Aghayev, who triumphed 4-0 and added to his country's burgeoning tally of 24 medals.

Abbas had earlier ousted Indonesia's Sandi Firmanseh 3-0 and Uzbekistan's Daston Otabolaev 2-0 en route to the final.

In the women's karate events, South Asian champion Kulsoom Hazara lost to Turkey's Eda ElTemur 6-0 in the -68kg quarter-final, whereas Nargis was edged out 1-0 in the +68kg semi-final by another Azerbaijan athlete, Farida Aliyeva.

Meanwhile, Akhtar finished third in the men's 25m centre-fire pistol event, following the home nation's first-placed Ruslen Lunev and Turkey's silver-medallist Yusef Dikec.

Pakistan's tennis team, however, remains on course to adding to their three 2005 Islamic Games gold medals as the Aqeel Khan-led unit occupies top spot in Pool B, thanks to their 3-0 domination of Qatar.


Awais applauded for gutsy win over India's Panwar


After Aqeel outplayed Shannan Mubarik Zayid 6-3, 6-4 and Abid Mushtaq defeated Shanan Muosa Zayed 7-6, 6-2, Abid and Muzammil Murtaza teamed up for the doubles rubber and brushed aside the pairing of Shanan and Abdullah Al Harrasi 6-1, 6-3.

The 3-0 sweep follows their earlier 2-1 and 3-0 triumphs over Azerbaijan and Jordan respectively.

But the women's tennis team is the polar opposite of men, having lost 3-0 in both their ties against Turkmenistan and Turkey, occupying the last spot in their group as a result.