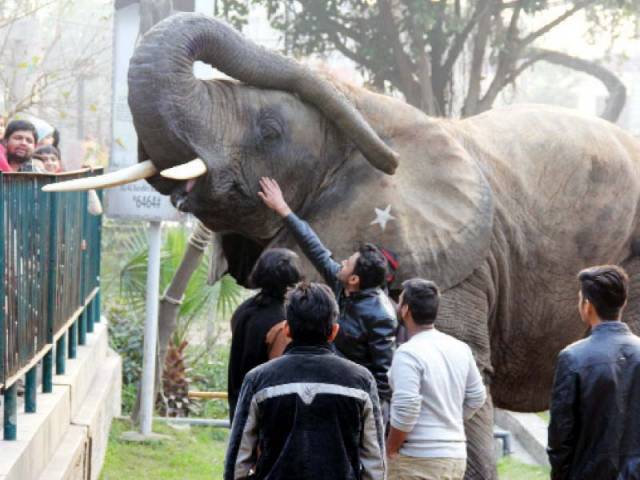 ---
LAHORE: Suzi, Lahore Zoo's only elephant, died on Saturday after spending a few days with acute pain in her legs. She was 31-years-old.

The African bush elephant had never experienced the pleasure of living in harmony with her own species. She was brought to the Lahore Zoo in 1992 when she was only six-years-old.

According to the zoo administration, the calf was named Suzi due to her friendly, docile demeanour.

A team of doctors from the University of Veterinary and Animal Sciences (UVAS) conducted Suzi's postmortem at Lahore Zoo. It is in the standard operating procedure (SOP) to conduct postmortem of every animal which dies at the Zoo, said Shafqat Ali the director of the Zoo.

While speaking to The Express Tribune, Ali also said that Suzi will be buried at Lahore Zoo for three to five months so the body decomposes. After that period, the body will be exhumed to extract its bones, added the director.

Punjab University requested for Suzi's skin for stuffing, while UVAS requested for her skeleton. Pakistan Museum of Natural History has also requested the skeleton.
However, Ali said he would prefer to give the skeleton to UVAS for its services in treatment of animals kept at the zoo. He further stated that the tusks of Suzi will be kept at the zoo.

UVAS administration had been asked for technology to decompose the body to get the skeleton. However, due to the lack technology, Suzi will be buried at the zoo for decomposition.

Endangered species: Villagers catch snow leopard alive

Recommendation issued by World Association of Zoos and Aquariums (WAZA), as outlined in the accreditation standards and related policies 2016, states, "Each zoo holding elephants must have a minimum of three females (or the space to accommodate three females), two males or three elephants of mixed gender."

However, due to a shortage of funds, and the unavailability of African elephants, Suzi was brought alone and has been living alone since 1992.

Suzi was the most attractive feature at the zoo and would enthrall visitors, especially children. According to reports, the zoo administration had stopped people riding on her back in 1999. They tried to continue the rides in 2001 but Suzi was no longer willing to carry weight on her back.

In 2013, when the administration tried to start rides one more time, Suzi responded well, but they did not have authorisation to restart the rides.

Endangered species poached in protected areas: WWF

The worldwide conservation status of the African bush elephant has been declared as endangered according to wildlife experts. According to Dr Jawad Ahmed, senior animal specialist of Veterinary Hub Pakistan (an NGO) Captive African Bush Elephants will be demographically extinct in Asia within the next two decades. He said that out of all mammalian species, the innate desire for mating is 60 per cent higher in elephants.