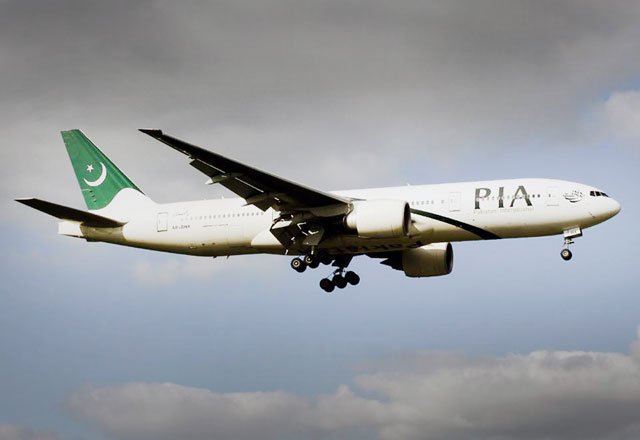 ---
KARACHI: Pakistan International Airlines' (PIA) accumulated losses rose 7.3% to Rs282.20 billion in six months ended June 30, 2016 as the air carrier continued to fly in loss on many international routes, while also losing domestic business to international airlines.

A high official of PIA recently told The Express Tribune that the state-owned carrier had continued to fly on loss-making routes to Europe and the United States. "We are flying to New York and from Karachi to the UK in loss," the official said.

Flights to Canada and from Lahore/Islamabad to the UK were performing comparatively better. However, the official did not clarify whether these were in profit or loss.




A reason for the accumulated losses could be the acquisition of wide-body aircraft on wet lease (rent with staff) at allegedly exorbitant rent of $8,100 per flying hour from SriLankan Airlines, Interior Minister Chaudhary Nisar Ali Khan said some time ago.

The PIA official added the airline had lost a significant business on domestic routes to international airlines under the open skies policy.

"The government has allowed Gulf carriers, particularly of the UAE, to operate to and from multiple airports in Pakistan under the open skies policy, which causes massive losses to PIA," he said.

He said the airline was reviewing its business plan in order to operate in the provided business environment.

Under the new plan, it may cut the number of flights on loss-making international routes. On such routes, it will operate from one domestic airport instead of multiple ones.

"We may transport passengers from different parts of the country to one airport [eg Karachi] and then take them to their international destinations," he said.

The carrier booked a fresh loss of Rs20.70 billion in the Jan-Jun 2016 period, which was 62% higher than Rs12.76 billion in the same period of previous year. Loss per share (A Class ordinary share) increased to Rs3.96 from Rs2.58. Loss per share for the B Class rose to Rs1.98 from Rs1.29, according to the profit and loss account sent to the Pakistan Stock Exchange (PSX).

PIA's stock price improved 2.44%, or Rs0.18, to Rs7.55 with a volume of 2.66 million shares at the exchange.

Net revenue dropped to Rs48.16 billion in six months from Rs52.47 billion in the same period of previous year.

Published in The Express Tribune, May 12th, 2017.

Like Business on Facebook, follow @TribuneBiz on Twitter to stay informed and join in the conversation.