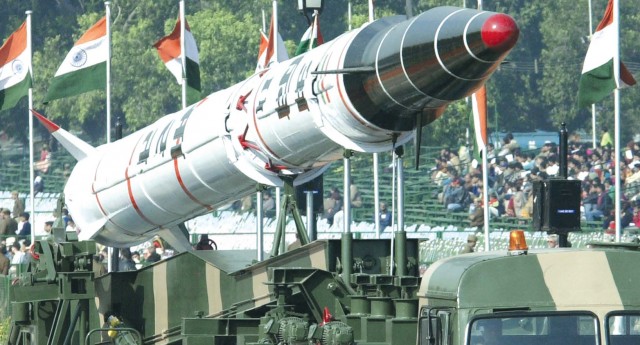 ---
BHUBANESWAR: The Indian military successfully tested a nuclear-capable, medium-range ballistic missile off its eastern coast on Monday, a defence official said.

The surface-to-surface Agni-II, which can deliver a nuclear warhead to targets within a range of over 2,000 kilometres, was fired from a mobile rail launcher on Wheeler Island off the coast of Orissa state.

The Agni-II has already been inducted into the services and Monday's "user test" was carried out by the army's Strategic Forces Command. "The user trial of the missile was successful and matched all mission objectives," said S P Dash, the director of the test range. The missile, which is capable of carrying a oneton conventional or nuclear warhead, is one of a series being developed by India's Defence Research Development Organisation (DRDO). According to the Times of India, the 20-metre long Agni-II is a two stage, solid-propelled ballistic missile while it has a launch weight of 17 tons and can carry a payload of 1000 kg.

The missile is part of the Agni series which includes Agni-I with a 700 km range and Agni- III with a 3,500 km range, the Times of India quoted its sources as saying, adding that Agni-I has already been inducted and Agni-III is in the process of induction. Unconfirmed reports suggest India is also building an Agni variant with a range of 5,000 kilometres. According to BBC, the Agni missiles are among India's most sophisticated weapons.

A DRDO scientist said Monday's test was a training exercise to familiarize the endusers with different operational conditions. The entire trajectory of the trial was tracked by a battery of sophisticated radars, telemetry observation stations, electrooptic instruments and a naval ship located near the impact point in the down range of Bay of Bengal.

Two earlier tests of Agni-II in May and November last year failed when the missile veered off course and plunged into the sea while this test was meant to re-establish confidence and confirm the readiness of the missile after the failed tests, according to officials. The Agni (literally "fire" in Hindi and Sanskrit) missile family is believed to be the cornerstone of India's missilebased nuclear deterrent.

Published in the Express Tribune, May 18th, 2010.
COMMENTS
Comments are moderated and generally will be posted if they are on-topic and not abusive.
For more information, please see our Comments FAQ