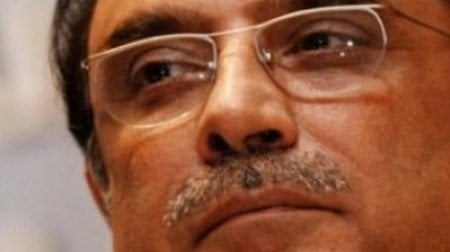 ---
LAHORE: The Lahore High Court (LHC) on Monday issued a notice to President Asif Ali Zardari in three petitions challenging his dual offices as the president and PPP co-chairperson.

The full bench of the LHC comprising Justice Ijaz Ahmed Chaudhry, Justice Chaudhry Iftikhar Hussain, Justice Umar Ata Bandial, Justice Iqbal Hamidur Rehman and Justice Ijazul Ahsan adjourned the case till May 27. Deputy Attorney General (DAG) Tanvir Hashmi said that President Zardari had not received any notice so it was "impossible" for him to file a reply. However, Justice Ijaz said the court had issued a notice to the federation of Pakistan, which means a notice to the president has been sent.

The DAG, at this, said that if the president was made respondent with his name in the petition and if the notice was directly issued to him, only then would it be considered as a notice to the president. At this the court issued a notice to the president through his principal secretary and asked for his reply till May 27. Hashmi added that other respondents including Speaker National Assembly Fehmida Mirza and Chairman of the PPP Bilawal Bhutto Zardari did not receive any notice in this regard.

Pakistan Lawyers Forum (PLF) through A K Dogar Advocate, Engineer Ghulam Jilani and Asif Mahmood Khan Advocate had filed identical petitions challenging President Zardari's dual offices. "Our Supreme Court judges decided in 1993 that the president should be non-partisan. He should not involve himself in political battles. He should shun politics but here he is a party head, which is illegal," Reuters quoted PLF president A K Dogar as telling reporters outside the court.

The case had been adjourned nine times before, without the federal government filing a reply. The petitions say that the dual offices held by President Zardari are in clear violation of article 41 (1) of the constitution. The petitioners have prayed the court to make President Zardari surrender his office of co-chairperson of PPP. During a previous hearing, the court expressed its displeasure over the absence of the Attorney General in the case, despite repeated notices. "If the federal government is not going to mend its ways, we might grant interim relief to the petitioner by stopping the respondent from functioning," the bench had said.

Published in the Express Tribune, May 18th, 2010.
COMMENTS (4)
Comments are moderated and generally will be posted if they are on-topic and not abusive.
For more information, please see our Comments FAQ