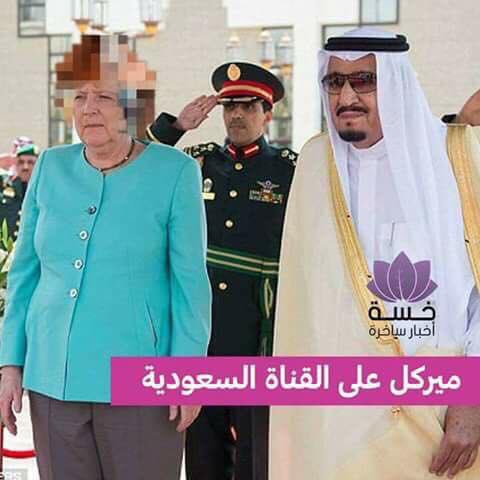 ---
Saudi Arabia had run into a controversy after a recent visit by German Chancellor Angela Merkel as social media users criticised the kingdom for censoring her hair on a TV channel.

But the incessant criticism was uncalled for as the image of Merkel users kept sharing on social media showing her hair blurred was actually doctored.

The German chancellor visited the kingdom for the first time in seven years where she met Saudi King Salman bin Abdulaziz on April 30 as she began a visit focused on bilateral relations and preparations for the next G20 meeting.

German chancellor in Saudi for G20, cooperation talks

Like other female western visitors, Merkel did not cover her hair on her arrival in the conservative kingdom.

Soon after the meetings, a picture, said to be from a Saudi TV channel, went viral showing Merkel standing next to the king with her hair censored.

The image then was reposted on many websites around the world and soon became a hot issue on social media.

Angela Merkel responds to the question 'are you a feminist?' in the most bizarre way

It was found out the picture was first shared on Twitter by Sarah Abdullah, an independent Lebanese journalist, who has a large following. The image was retweeted over 2,000 times.

https://twitter.com/sahouraxo/status/859924707604353024

However, it later turned out that the image was doctored after people shared the original video of the channel proving that Merkel's hair was not censored at all.


She is a lair..so Dont Believe anything form this Fake Account pic.twitter.com/IHbMoqhiL5

— س (@SR_SUB8) May 4, 2017


Further, the Saudi Press Agency also shared the uncensored image which meant that the state media had no issue with showing Merkel's hair on their media.


This happened on the thread re: Merkel's hair "censored" by Saudi media. This is why we can't have nice things. pic.twitter.com/Rr3M4eHbtZ

— Alessandro Mencarini (@amencarini) May 5, 2017
The article originally appeared on BuzzFeed
COMMENTS (9)
Comments are moderated and generally will be posted if they are on-topic and not abusive.
For more information, please see our Comments FAQ