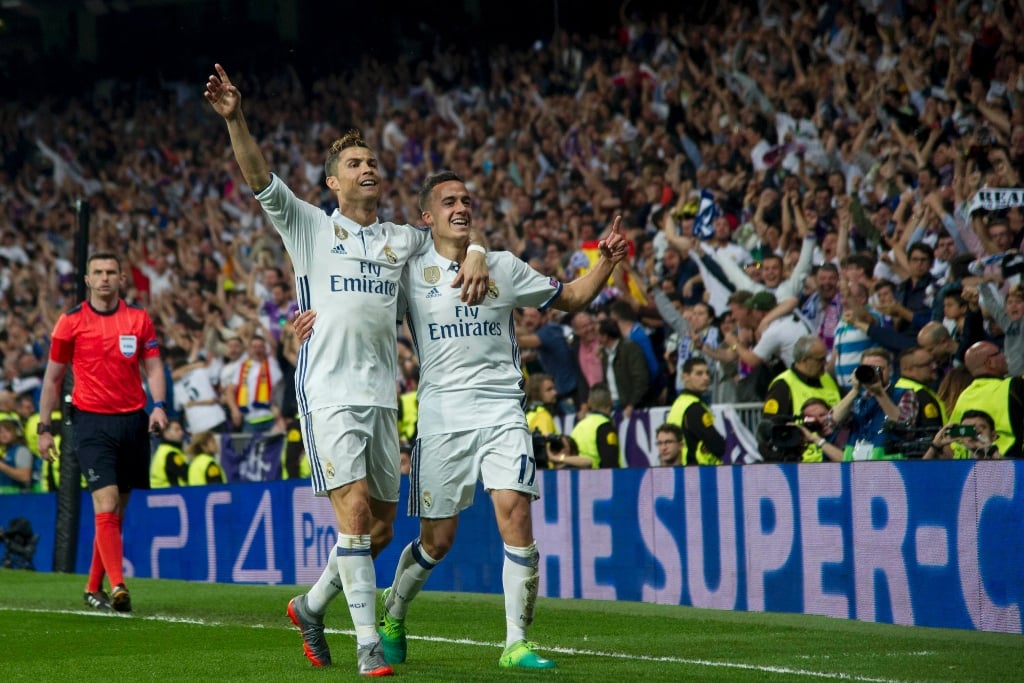 ---
Real Madrid superstar Cristiano Ronaldo made headlines once again as he netted a brilliant hat-trick to all but end the contest against city-rivals Atletico Madrid in the first leg of the semi-final at the Santiago Bernabeu.

While Atletico still have the second leg to play, having to score at least three goals and not concede any in the return leg is a Herculean task for any team in the world, especially when you are playing against Zinedine Zidane's free-scoring Real.

Here we look at the best Twitter reactions to Ronaldo's hat-trick including all the goals as well:



Some commemorated both Lionel Messi and Ronaldo


There is nobody out there, or up and coming, that come close to Ronaldo or Messi. Both Untouchable 🙌🏻🙌🏻

— Nick Newell (@_NickNewell_) May 2, 2017
If watching Ronaldo play doesn't fill you with joy just because you prefer Messi or vice versa then football isn't the sport for you.

— Kian (@herbivorekian) May 2, 2017


https://twitter.com/BigSportGB/status/859512031023681536

While others found time to take a dig at Arsene Wenger's Arsenal


Ronaldo would probably score 13 goals against Arsenal over 2 legs 😂

— Notorious Footy (@NotoriousFooty) May 2, 2017


Others meanwhile resorted to the same old Messi-Ronaldo comparisons.

https://twitter.com/DeadlyCristiano/status/859512720546123776

https://twitter.com/vintageronaldoo/status/859513846012235778


We may have won 3-0 tonight, but don't let it distract you from the fact that Lionel Messi blew a 4-1 Ballon D'Or lead vs Cristiano Ronaldo.

— Xav Salazar (@XavsFutbol) May 2, 2017
Cristiano Ronaldo posing with players better than him. pic.twitter.com/pj4YwljxDV

— Aaron (@elnnenym) May 2, 2017
Ronaldo will now collect ballon d'or while Messi will be hanging shirt at aswani

— Akwaugo (@Nazygold2) May 2, 2017


Ronaldo netted a hat-trick in the previous match against Bayern Munich as well and this fan summarised it best

https://twitter.com/TrollFootball/status/859517593169928192

While this response by Antoine Griezmann is just gold!


Host: Who wouldn't you like to see in 2017?
Griezmann: Cristiano Ronaldo. pic.twitter.com/Add4fZmDWt

— Mohamed Osama  (@_DrOsama) May 2, 2017


For those who missed out on the goals, here they are


Ronaldo's hat trick from tonight vs Athletico 👌🏼🔥 #ronaldo #realmadrid #championsleague pic.twitter.com/MsJIR9C7Qc

— This Is Funny News (@thisisfunnynews) May 2, 2017
COMMENTS
Comments are moderated and generally will be posted if they are on-topic and not abusive.
For more information, please see our Comments FAQ