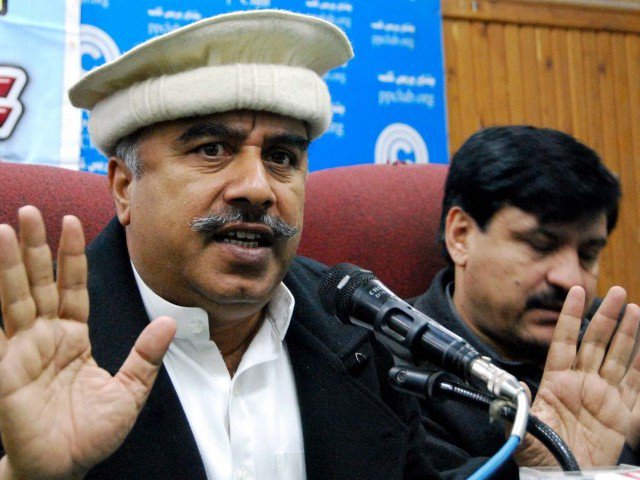 ---
PESHAWAR: The Khyber Pakhtunkhwa Assembly witnessed an uproar on Tuesday evening when a member of the treasury passed obscene remarks about women lawmakers of the opposition bench.

During a discussion on water-related issues, Pakistan Tehreek-e-Insaaf (PTI) minister for Public Health Engineering Shah Farman said, "There are 36 departments in the government but if the women (lawmakers) had only water-related issues in their constituencies then they should meet me alone."

The remarks caused a ruckus in the House, forcing the deputy speaker to adjourn the sitting without completing the agenda.

Pakistan People's Party (PPP) lawmaker Nighat Orakzai asked Farman to apologise and retract his remarks. However, instead of apologising, Farman told the Orakzai "look at your ugly face" when the latter protested against the former's remarks.

It began when the lawmakers were protesting against the non-allocation of funds for women members and those belonging to minorities. According to Orakzai, the incumbent government had limited development funds to male lawmakers and those belonging to treasury benches.

Uproar in assembly over minister's sexist outburst

"We were assigned developmental schemes in the umbrella projects but now we are not getting any schemes for the constituencies implemented due to lack of funds," she said.

The lawmakers walked in front of government benches holding placards against unequal distribution of developmental funds and ignoring women in the funds.

The government faced severe criticism from the opposition benches when a PPP lawmaker Fakhar Azam told the house that district Nowshera's share in the developmental funds was more than the collective funds earmarked for the seven southern districts including Tank, Dera Ismail Khan, Lakki Marwat, Bannu, Kohat, Hangu and Karak.

Nowshera alone, he added, had been given Rs4.56 billion developmental funds while all the seven southern districts received only Rs3billion. He further said that 9 districts - where the government had majority of votes - had been given Rs16.52 billion, while the rest of the 16 districts had been given only Rs5.46 billion funds.
COMMENTS
Comments are moderated and generally will be posted if they are on-topic and not abusive.
For more information, please see our Comments FAQ