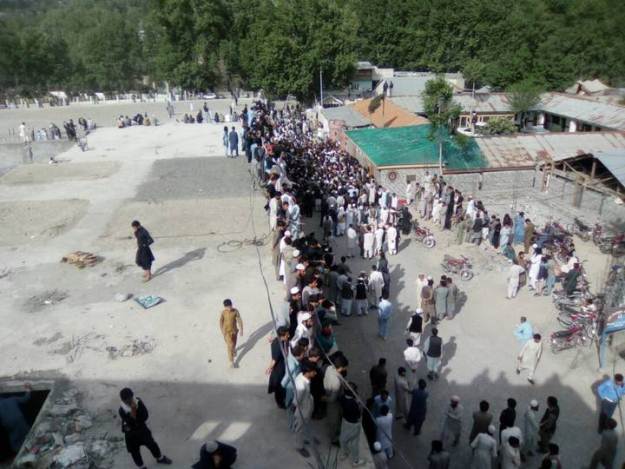 ---
PESHAWAR: Residents of Chitral district urged the Khyber Pakhtunkhwa chief minister on Saturday to release 23 people detained for attacking a man who alleging committed blasphemy on April 21.

They staged a protest against security forces outside the Peshawar Press Club. They condemned the police action and chanted slogans against the man involved in the blasphemy case.

The protesters were led by Jamaat-e-Islami's (JI) member of the National Assembly Abdul Akbar Chitrali. Addressing the protesters, Chitrali accused the man of committing blasphemy during a Friday sermon, adding that when the people praying inside reacted, he was saved by the prayer leader who handed him over to police.

Mob attacks man in Chitral for 'blasphemy'

He said that instead of arresting the man, who according to him had committed blasphemy, police locked up poor people and shifted them to a Swat prison. "An FIR has been registered against them which is an injustice to these people."

He urged Chief Minister Pervez Khattak to immediately release the 23 people arrested by the police and clear them of all charges. He also urged the government to award the harshest punishment to the man who had committed blasphemy.