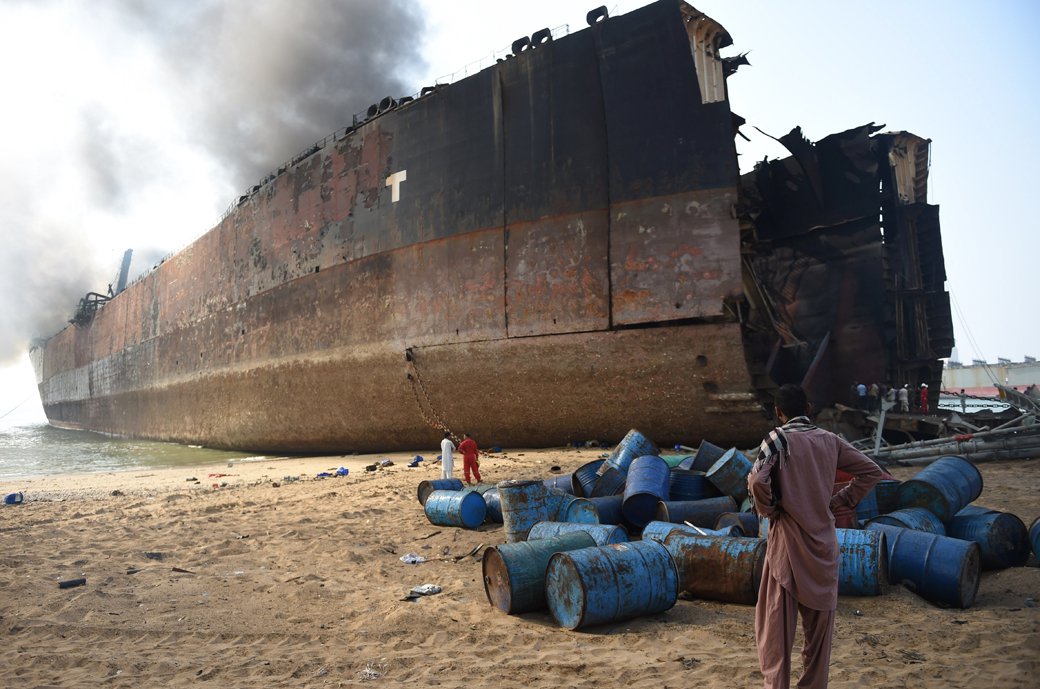 ---
KARACHI: In a country that has a long, tarnished history of workers' rights, activists are now calling for a ban on a substance that many consider a leading cause of cancer and a lung disease called asbestosis.

Trade union activists and workers of asbestos-using industries called on the government to institute a mechanism for an immediate ban on all forms of asbestos in the country. The activists also urged the government to list 'chrysotile asbestos' as a hazardous substance at the upcoming Rotterdam Convention, which will be held in Geneva on May 2.

Keeping in line with upcoming Labour Day, which will be celebrated on May 1, these demands were made during a press conference on Friday by representatives of the National Trade and Union Federation (NTUF) at its office. NTUF Deputy Secretary-General Nasir Mansoor, along with NTUF President Muhammad Rafiq Baloch and Gadani Shipbreaking Union President Bashir Mehmoodani addressed the press conference.

Mansoor said that during the last Rotterdam Convention in 2015, Pakistan had sided with countries such as Russia, Kazakhstan, India, Kyrgyzstan and Zimbabwe in opposing the listing of chrysotile asbestos in the Prior Informed Consent (PIC) list. Adding a substance to this list does not mean that the substance is banned but only ensures that the importing country receives all the required information regarding the hazards of the substance.

G-B Health dept: 'NAB to probe appointments scam'

He said that considering the public health disaster caused by chryotile asbestos, 55 countries have banned any use of asbestos. Although there is some mining of asbestos fibres in the country, large quantities of fibres are imported from countries such as Russia, Brazil and Kazakhstan, he told participants of the press conference.

Mansoor shared data from the United States Geological Survey and pointed out that Pakistan imported over 2,800 metric tons of asbestos fibres in 2015, while between 2009 and 2012, more than 35,000 tons were used. He added that this vast amount of fibre, which will eventually be placed in the homes of a large number of people, would lead to an epidemic of diseases caused due to asbestos.

He said that to compound the problem, there are no statistics or data regarding the number of workers suffering from asbestos-related disorders. The main reason for this is the absence of trained doctors. There is no systematic monitoring and reporting of asbestos-related diseases in Pakistan, lamented Mansoor, while also demanding that the government make serious efforts to conduct a survey on it.

Get residences vacated, DG health told

Pointing out the industries in which workers are exposed to the hazardous substance, Mansoor said the shipbreaking industry, cement-producing industries, pipe-manufacturing units and construction sites are the main sites where workers are most exposed to the hazardous substance.

"While the whole world is progressively moving towards banning asbestos, in a striking contrast, Pakistan has been increasing imports of the deadly chrysotile asbestos. We urge the Pakistani government not to turn a blind eye towards the long-term hazards related to asbestos usage and exposure," Mansoor pleaded.

Four demands were put forward during the press conference: enable listing of chrysotile asbestos in the United Nations' hazardous substances list in the upcoming conference, ban all forms of asbestos in Pakistan, undertake a survey of all factory and mine workers using asbestos fibres to identify victims of asbestos-related diseases and institute a framework to identify alternative products to replace asbestos.

Mansoor added that in South Asia, India and Pakistan are against banning this hazardous substance, while the whole world is aware of how this chemical is causing serious health problems to the people.