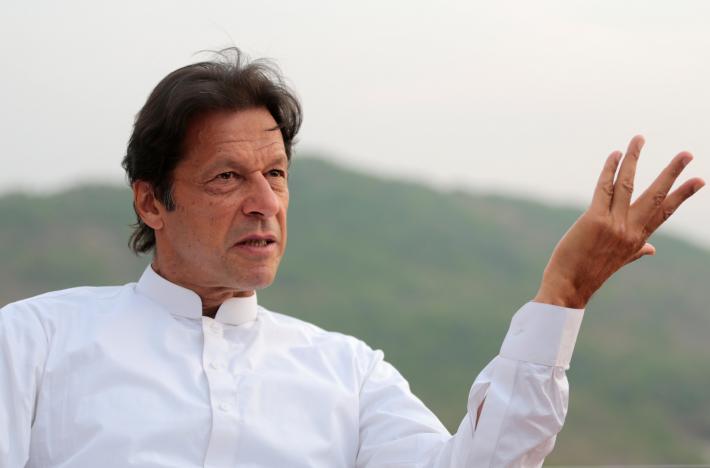 ---
PESHAWAR:
Pakistan Tehreek-e-Insaf (PTI) chief Imran Khan claimed on Tuesday that the Pakistan Muslim League-Nawaz (PML-N) government had offered him Rs10 billion to back down from the Panamagate case.

While addressing participants at the Shaukat Khanum Memorial Cancer Hospital and Research Centre (SKMCH&RC) in Peshawar, he said when PML-N government can offer me such a huge amount then one can only imagine what they will offer investigation organisations probing the Panamagate case.

"We will not leave pursuing the PML-N government until the prime minister resigns," he said.

He said the apex court's decision has raised awareness among the people who supported Nawaz in the past as they now understand his reality.

Nawaz Sharif had presented fake evidence in the Supreme Court, he said and added that Nawaz has made Qatri prince responsible for the wealth provided and used by Sharifs' family abroad.

He said Nawaz has no further evidence to prove he is innocent and now we (PTI) can build pressure on the investigation authorities to stop supporting the prime minister and his family.

He said that everyone knows that Nawaz is stuck and should resign from office.



Imran challenges PM to 'open debate' on Panamagate

Inauguration ceremony

Earlier during the day, Khan inaugurated the Khyber-Pakhtunkhwa (K-P) U-23 Games 2017 at Hayatabad Sports Complex.

In his address, Khan said the slogan 'Go, Nawaz Go' will become the second national anthem in PTI's rally on Friday in Islamabad for the resignation of Premier Nawaz.

"This seems to have become the second national slogan of Pakistan," he said.

Khan urged the participants, especially students, not to go for short-cuts in life and work consistently to achieve success.

"If I had not worked hard in cricket, I wouldn't have been able to build SKMCH&RC in Peshawar and if I had not received my training in cricket, I would not have formed PTI," he said.

Khan assured the youth that sports would teach them how to compete and never give up … Those who do well both in studies and sports will definitely succeed in life.

"We have lesser playgrounds for 180 million people as compared to New Zealand with a population of just 3.0 to 4.0 million," he said while criticising previous leaders who did not give importance to sports.

Khan said construction work in K-P is underway to build 100 playgrounds, out of which, 50 have already been built in the province.

Sports, recreation facilities in K-P

Dawn Leaks report be made public

The PTI has demanded of the government to make the Dawn Leaks' report public.

PTI's Naeem-ul-Haq, in a statement issued to the media on Tuesday, said the Panama Papers and the Dawn Leaks have revealed the true face of the ruling Sharif family.

Responding to the government's ministers' press conference, Haq said there is no doubt about it now that conspiracy of mudslinging initiated from the PM's own house.

He said although there is no hope attached with the report of the 'confused commission', which probed the Dawn Leaks, they (PTI) will wait for its release. He also said salvage of the 'real culprit' will not be allowed in guise of 'scapegoat'. (ADDITIONAL INPUT BY OUR CORRESPONDENT FROM ISLAMABAD)