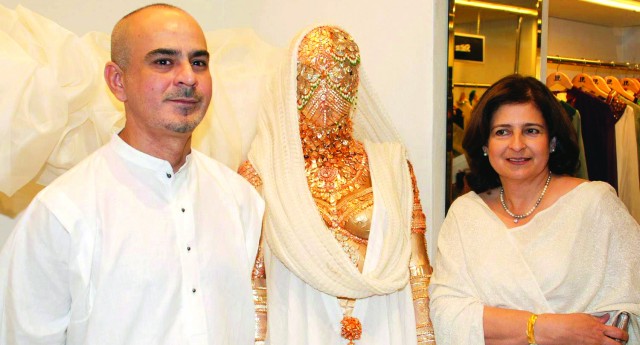 ---
KARACHI: The Karachi-based fashion design council, Fashion Pakistan, opened its own flagship store - Fashion Pakistan Lounge - in Lahore last week.

The store features over 20 designers from Karachi and Lahore. The move comes after the council has organised three fashion weeks since 2008 in Karachi. But the idea of a multi-label designer store isn't unique. The Designers, Ensemble, and the Lahore design council Pakistan Fashion Design Council (PFDC) all have retail stores in both cities. Additionally, stores like Melange in Islamabad and Labels in Karachi all stock designer labels. Designer Maheen Khan, who is the chairperson of Fashion Pakistan, credits PFDC for the idea.

"We saw the store and realised what a good idea it was! It was an idea that we had always had, and it just came about," she told The Express Tribune. Khan, who is consulting for the textile company Nishat, was in the Lewre shoe store in Lahore to look for shoes and realised what a "fabulous retail space" they had that was not being utilised. She got in touch with the men who run the store, and offered them to run the franchise for the Fashion Pakistan Lounge.

"Those guys have been fabulous," Khan says. "They consulted me at every step. The architect that they picked has done a great job; it's very minimalistic, very sleek, and very chic, all in white." The store also features a space for runway shows, similar to The Designers (in Karachi) and PFDC's The Boulevard stores in Karachi and Lahore. But what makes the Fashion Pakistan Lounge interesting is that the space will also house the Chez Nur cafe and Mussarrat Misbah's salon. This makes for an interesting tie-up, according to Khan, if a designer wanted to have a small runway presentation for their clientele.

"All I would need are models, who would get to the salon, have their make-up done and then walk in to the store for the show! We have seating, sound, lighting, everything is set up." But given that several of the designers are already stocking elsewhere in the city, do they have the capacity to stock at Fashion Pakistan Lounge? "Designers here are also businesspeople. So it's their choice, and a lot of the designers we have are not stocking elsewhere, such as Sanam Chaudhri and Ather and Sabeen. Also, there are designers like Deepak Perwani, who is stocking his DPhilosophy line at the Lounge and his more formal range at his own retail store."

So how has the reaction from the PFDC council been, given that the two have had a stilted relationship over the past few years since their inception? "It was fantastic," says Maheen Khan. "I called Sehyr (Saigol, chairperson of PFDC) and she attended the event. A lot of the designers from the council had already been invited so they came as well.

And it is a lot like India and Pakistan, you know, so we're now starting a dialogue." Does this mean that the councils can unite and have one fashion week, putting an end to the half-dozen or so fashion weeks scheduled to take place in Pakistan this year? "Let's see. That's why we have started talking so we can start a process."

Published in the Express Tribune, May 18th, 2010.
COMMENTS (1)
Comments are moderated and generally will be posted if they are on-topic and not abusive.
For more information, please see our Comments FAQ