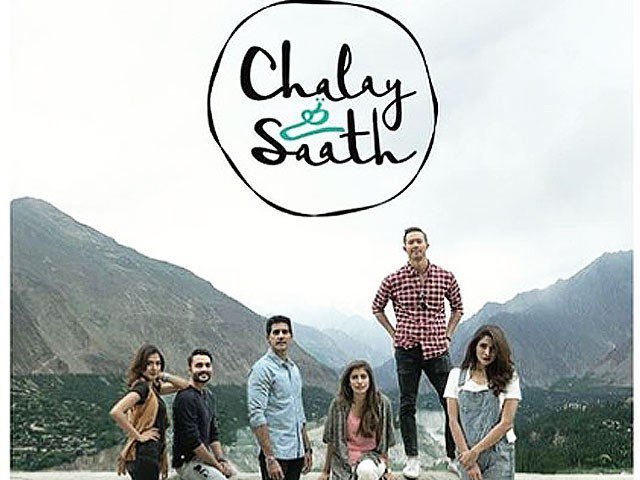 ---
Every time I go and watch a Pakistani film, I am reminded of something my theatre professor once told me, "We need to tell stories about people not stories about social issues."

This has been as much of a chronic problem with Pakistani cinema as the heavy reliance on dialogue to tell the story. Chalay Thay Saath dares to negate both these conventions and ends up falling on its face.

It offers a breathtaking view of the Northern areas with plenty of eye candy to admire to your heart's content - but that's where the film begins and that's exactly where it ends too.

Chalay Thay Saath looks like an emotional roller coaster

Sadly, it doesn't even aspire to do something above and beyond. What turned out to be the first classic case of 'failure to launch syndrome' in Pakistani cinema, Chalay Thay Saath becomes a victim of its own crime.

In trying to create a visual spectacle, director Umer Adil pays so much attention to the apparent majestics of the film that he ends up crafting a narrative that proceeds with snail speed and has a light year to cover.

The destination however remains unclear till the interval. It keeps on going without actually building up on anything and by the time it does, so has your bladder.


I doubt you will, but if you still manage to stick around after the interval then you may end up witnessing a few dramatic moments, most of which barely follow the laws of causality. It's almost as if someone from a parallel dimension pokes one of the characters in the wrong place and they get furious and turn it into a matter of life and death.

While they figure out their personal struggles, you struggle to divert your attention from the randomness of events, thankfully, for me; the Panama verdict was a good alternate reality to ponder on, it was equally hilarious for all the wrong reasons.

'Chalay Thay Saath' is very different from 'Janaan': Syra Yousuf

The film starts with Resham (Syra Shahroz) introducing all the characters of the film while making a few entries into her diary.

Flashback to how and where this journey actually started, we see Resham who is a local of Hunza being joined by her friends, two of them, Tanya (Mansha Pasha) and Zain (Osama Tahir) playing a fighting couple and Faris Khalid being the loner. Later on, the tour guide stops to pick a sixth guest, Adam (Kent S leung), a Chinese visitor in Pakistan. Together they explore the beauty of the surrounding areas - and themselves.

The only other thing that comes to the director's rescue is a perfect choice of soundtrack, with the likes of Bell, Moroo, East Side Story, Bakshi Brothers and Abbas Ali Khan lifting the mood when you're convinced that it was a bad decision. In all honesty, I felt that with such great music and visuals, Chalay Thay Saath could have worked better as a concept album and not a film.


And it's primarily because the film is garnished by major plot development issues. Somewhere between stating the obvious and being completely discreet about giving away information lies the treasure of subtlety.

And in aiming to find that ideal balance, the director concealed all the character arcs, making us wonder about the countless and oh-so-sudden transformations within a short period of time. Chalay Thay Saath is essentially a film suspended in midair waiting for a Newton to define its laws of motion and regrettably, he never shows up to save it from being a comfortably bad film.

Revealed: Meet Syra Shahroz's co-star in Chalay Thay Saath

With a cluster of issues enveloping the script, one can't even place the cast, comprising a mix of seasoned and fresh talent under the hammer for their performances. Be it someone as refined as Zhalay in a brief appearance to someone as amateur as Faris, everyone did well in their own right, but they essentially didn't have much to do.

The only memorable scene in terms of performance comes towards the end when Resham and her father share a deeply emotional moment together. Behroz Sabzwari and Syra both bring their A-game to the screen making you genuinely feel the depth of their conflict for the first, and possibly the last time in the flick.

One wonders how many talented people are going to bear the brunt of shallow characters and pointless plots on their way to big screen recognition. Sighs.

Verdict: Go visit the northern areas instead. The season is just around the corner.

Rating: 2/5

Have something to add in the story? Share it in the comments below.