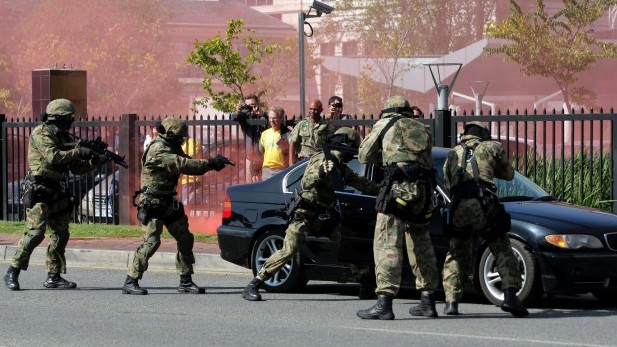 ---
BAGHDAD/JOHANNESBURG: Iraqi security said a member of Al Qaeda had planned an attack on the upcoming World Cup in South Africa.

Abdullah Azzam Saleh Misfar al-Qahtani, a 30-year-old Saudi, who was arrested two weeks ago "participated in the planning of a terrorist act in South Africa during the World Cup," said Baghdad security spokesman Major General Qassim Atta on Monday.

He added that Qahtani, who was in charge of security for the terror network in Baghdad, was in contact "with the terrorist Ayman al Zawahiri to organise the plan hatched by Al-Qaeda."

Zawahiri is Al Qaeda's number two and deputy to Osama bin Laden.

Atta declined to give further details on the plan or comment on how the information was obtained.

Meanwhile South African police said they were making inquiries into claims.

"The South African police are still working on getting confirmation," Nonkululeko Mbatha, spokeswoman for the national police chief, told AFP.

"I don't know anything about that. We've not been consulted or informed," police spokesman Vish Naidoo told AFP.

"We must phone Iraq. That's the next step," he said.

National Police Chief Bheki Cele said last week that he knew of no security threat to the football championship that kicks off on June 11.

The report came as South African police and military staged a mock hijacking Monday in Johannesburg's Sandton business district to demonstrate their readiness to safeguard the games.

"Our comprehensive plan looks at the smallest of criminal acts... to the biggest form such as terrorism," Cele said at the event, before the report came out.

"Whilst no country can boast it is immune to terrorist acts, what becomes critical is that should such an event occur, how do we respond," he said.

"What makes us even more alert in our security plan is that South Africa will be hosting the whole world. Therefore we will not be taking any chances, knowing terrorists in their nature are obsessed of making their savage actions at international events."

With an average 50 murders a day, crime rather than terrorism has received most of the attention in the run-up to the World Cup.

South Africa will deploy 41,000 police officers during the month-long tournament, which runs from June 11 to July 11.

The military is on high alert to provide back-up support, and special courts will be in place for any crimes connected to the event.