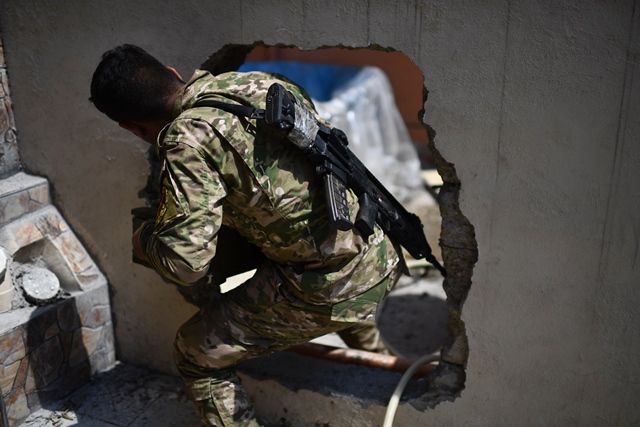 ---
MOSUL: Iraqi forces retook two more neighbourhoods in west Mosul Thursday, tightening the noose around militants holed up in the Old City, commanders said.

"The forces completed the liberation of Al-Thawra neighbourhood," Sabah al-Noman, spokesperson for the elite Counter-Terrorism Service, told AFP.

An officer with the federal police forces also deployed in west Mosul confirmed that the neighbourhood, which lies just west of the Old City, had been retaken from the Islamic State group.

Iraqi forces fight door-to-door in Mosul as battles enters seventh month

The Joint Operations Command coordinating the fight against the militants nationwide said the Nasr neighbourhood was also retaken on Thursday.

Iraqi forces launched a huge operation, their largest in years, to retake second city Mosul, in mid October last year.

Over 300 civilians killed since west Mosul offensive began: UN

They retook the side of the city that lies east of the Tigris river in January and launched a push on remaining IS fighters in western Mosul, which is more densely populated and has seen fierce fighting.

On the west bank, Iraqi forces control southern neighbourhoods and are slowly surrounding the Old City, whose narrow streets are expected to make federal operations very difficult.

An estimated 400,000 civilians are believed to still be there, unwilling or unable to leave because any escape would be too dangerous or because the terrorists are using them as human shields.