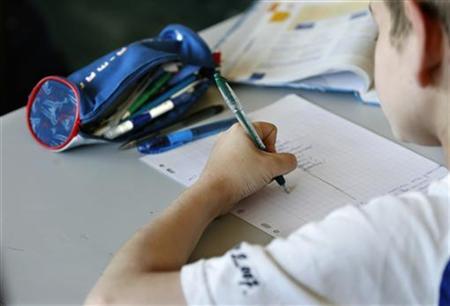 ---
A teacher in Florida was reprimanded for giving his sixth-grade religion class an anti-Muslim reading assignment.

Mark Smythe is the religion and social studies teacher at Blessed Trinity Catholic school in Ocala, Florida. He gave his students printouts of a 19th-century Catholic text that refers to Islam as a 'monstrous mixture' of faiths. The doctrines of the Prophet Muhammad (PBUH) were called "ridiculous, immoral and corrupting."

Canadian man offers $1K reward for recordings of Muslim students praying

"We have spoken to the principal of Blessed Trinity Catholic School, Ocala and to the teacher in question and have reprimanded the teacher for this unfortunate exhibit of disrespect," Jacquelyn Flanigan, an associate superintendent at the Diocese of Orlando's Catholic school system, said in a statement.

However, Flanigan did not elaborate on what 'reprimanded' meant.

She further said that "the information provided in the sixth grade class is not consistent with the teachings of the Catholic Church."

The text was shared with The Huffington Post by the friend of a concerned mother in Smythe's class.

"[The mother] shared this with me while she could not stop crying," the friend wrote.




Leaders within Ocala's interfaith community were shocked and upset to see this reading assignment as part of a class.

Humeraa Qamar, a Muslim whose daughter once attended the school emailed the school, saying the assignment "caused a lot of distress to the students in [the] class and also understandingly to the Muslim Americans living in Ocala, Fl including our family."

The 712-page Google doc that proves Muslims condemn terrorism

Rabbi David Kaiman also emailed the school saying the reading was "dangerous and destructive and feeds those who seek to hate, vilify," and that it "expresses a hate language that is disturbing."

He added that the "tone and factual content is outdated and not reflective of Catholic doctrine."

This story originally appeared on The Huffington Post
COMMENTS (5)
Comments are moderated and generally will be posted if they are on-topic and not abusive.
For more information, please see our Comments FAQ