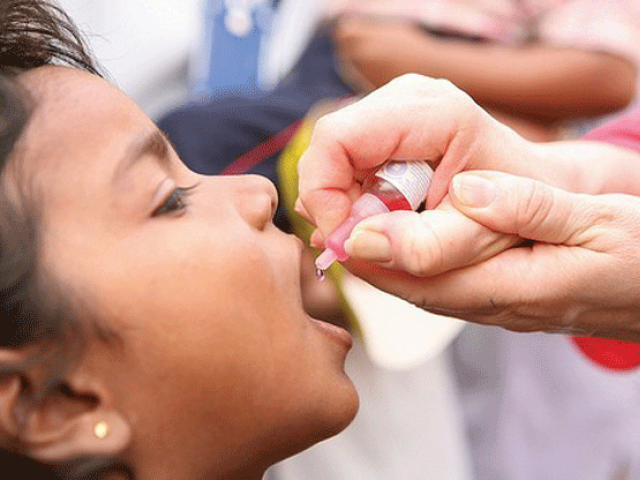 ---
PESHAWAR: Despite the fact that polio vaccine has been scientifically proven as harmless and religious scholars are also on board with that, a small fraction of highly educated people is constantly refusing to administer anti-polio drops to their children in Peshawar.

As the federal and provincial governments are striving to eradicate the virus, the educated lot, that too with some having Masters degree in medicine, refused to administer anti-polio drops to their children.

Earlier, people living in far-flung rural areas refused the anti-polio drops citing different reasons, but with the clarification that the drops are scientifically harmless the refusals sharply dropped from over 25,000 to around 650.

"Now, when we can claim to have successfully carried out anti-polo drives in areas where teams would think twice before going, the educated lot has become a serious problem for us," a senior health official dealing with polio eradication campaigns in Peshawar told The Express Tribune on Tuesday.

Polio job 'almost done but not finished'

The official, who requested anonymity, said almost all the doctors refusing polio drops were government employees. Besides doctors, two from Pakistan Air Force and dozens from Water and Power Development Authority (Wapda) were among the refusing parents.

"When we told them about Section 3 of the Public Maintenance Order, they accepted it, but these are what we call chronic refusals which are found in refusing parents' list after every anti-polio drive," the official said.

The list for March 2017, a copy of which is available with The Express Tribune, revealed that 11 doctors, including eight fathers, of which, two are currently employed at Lady Reading Hospital (LRH), were among the refusing parents.

Statistical data states 17 government servants, including a professor, were among the refusing parents besides six Wapda employees.

Peshawar polio-free since February

Peshawar's Additional Deputy Commissioner Bashir Ahmad said parents of some 47 kids were convinced on Monday and anti-polio drops administered. He also confirmed that employees of the health department were among the refusing parents.

Keeping in view the constant number of refusal cases during anti-polio campaigns, the World Health Organisation launched 'conversion drive' to be carried out ahead of the anti-polio drives to convince refusing parents.

The first conversion drive was launched last week in Khyber-Pakhtunkhwa (K-P) and was initially carried out in 10 K-P districts including Peshawar, Mardan, Charsadda, Nowshera, Swabi, Dera Ismail Khan, Bannu, Karak, Lakki Marwat and Tank where religious support persons besides religious scholars will be converting refusal cases.
COMMENTS (5)
Comments are moderated and generally will be posted if they are on-topic and not abusive.
For more information, please see our Comments FAQ