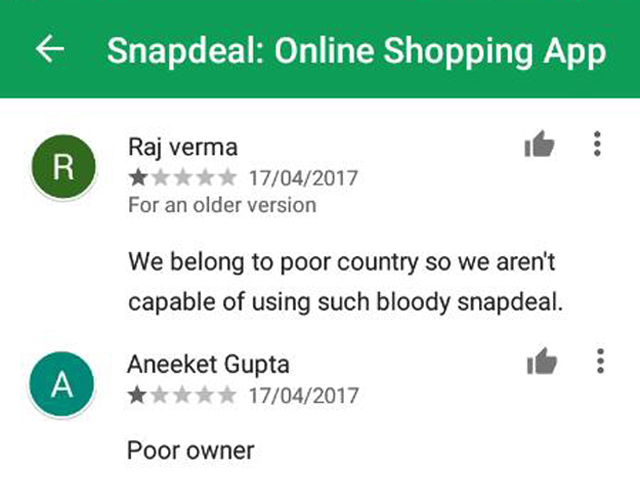 ---
Snapchat has been in the eye of the storm since last week after an article of Variety highlighted an alleged comment by Snapchat CEO Evan Spiegel calling India a poor country.

"This app is only for rich people. I don't want to expand into poor countries like India and Spain," Spiegel allegedly said.

Snapchat CEO called India 'a poor country' and now Indians are boycotting the app

The quote came from a recently unredacted court complaint by Anthony Pompliano, who served as the company's growth lead for a few weeks in 2015. The former employee mentioned the exchange from a September 2015 meeting he had with Spiegel about the app's international growth plans.

Snapchat CEO's alleged comments infuriated Indians who started venting their anger by deleting the app from their smartphones and giving it 1-star reviews on Google Play Store and App Store.

However, all this chaos claimed an unexpected victim: India's very own Snapdeal.

Some users mistook SnapDeal, a Delhi-based e-commerce company, for Snapchat and started giving it bad-reviews on app stores.




"Don't buy products from SnapDeal. Company's CEO [said] that this shopping site is not for poor country India. Let's just uninstall this app," commented a user in review of Snapdeal's app while another said "poor owner".

https://twitter.com/SahilBulla/status/853614960299192320

https://twitter.com/Agratha/status/853598310531186689

Some Twitteraties found the situation to be hilarious.


Indians getting confused in Snapdeal and Snapchat. pic.twitter.com/lsBfTsxAgz

— Silly Point (@FarziCricketer) April 16, 2017
We feel you, Snapdeal.#Snapchat pic.twitter.com/KF8LvduNSP

— FilterCopy (@filtercopy) April 16, 2017


However, some users saw the truth among all chaos and tried to balance the review by giving Snapdeal a 5-star review.


After spending Rs.200 crores on branding @snapdeal must be wondering today why people can't make out it's not @Snapchat

— Mahesh Murthy (@maheshmurthy) April 16, 2017
COMMENTS (1)
Comments are moderated and generally will be posted if they are on-topic and not abusive.
For more information, please see our Comments FAQ