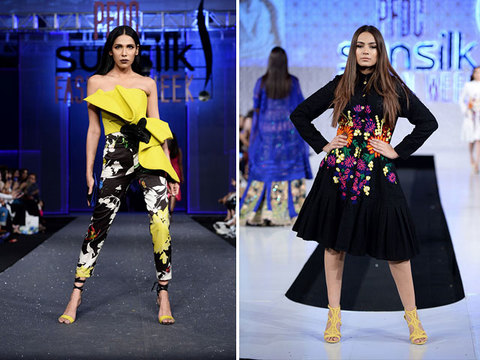 ---
LAHORE: The three-day fashion extravaganza came to a close with some notable showcases. Of the myriad of trends showcased, feminine and flowy silhouettes in muted colours and fabrics such as organza and silk seem to remain a dominant fad this fashion season. Here's a rundown of who showed what on the fashion aisle.

Sana Safinaz

Collection: Chateau Marmont




The designer duo showcased their latest line 'Chateau Marmont', which took inspiration from the glitz and glamour of old Hollywood and redefined it with modern, sleek silhouettes. Vintage French beadwork, appliqued gem stone motifs and structured silhouettes dominated the outfits. The collection was flirty and feminine and combined the traditional and modern with straight clean cuts, evening dresses, jump suits, straight pants and gowns. The colour scheme comprised emerald green, magenta, and yellow along with monochromatic classics.

5 dapper things to look forward to at PFDC Sunsilk Fashion Week 2017

Ali Xeeshan

Collection: Victory




Khaki colour tops featuring rich floral embroidery and white and black chikan with beads and colorful patchwork were a fashionable aid in highlighting the silhouettes. The offerings included multicoloured shimmering gota ghararas paired with white chikan kurtas. We loved the structured embellished peplum bodice with cascading asymmetrical trails in muted tones of khaki and shades of flaming orange and forest green. According to Xeeshan this collection was a way to celebrate all the failures that led him to the victory he has today in the fashion world.

Asifa Nabeel

Collection: A Silent Opera 




Asifa and Nabeel's showcase was an extension of their previous collection, Carnation. Ruffled organza and layers of silk constructed the silhouettes, which included flares and sharp cuts. The designers worked with a muted palette, favouring shades of ivory and then transcending into black keeping with the soothing qualities of silk itself. Embellishments and details were inspired by ocean waves and were minimalistic yet very distinctive. The collection exuded a feminine touch with ruffles, layers and frills.

Khaadi Khaas

Collection: The Nomad




Tracing the footsteps of the central Asian travellers, the brand presented a collection that encompassed the rich and vibrant heritage of the land of folklore and mountains. The designs were created in luxe fabrics and cuts, draped in a range of feminine silhouettes. The collection comprised solid and printed rich fabric with shimmering gold borders. While the heavily embroidered and voluminous floor length dresses were a visual treat, this collection was a modern twist to a vibrant fashion tradition.

PSFW 2017 Day 1: Telling tales through fashion

Republic by Omar Farooq

Collection: Paradox




The label took inspiration from the Japanese work-play balance and explored the contradicting subcultures that seem to harmoniously evolve with one another. Giving menswear his unique spin, the showcase featured a few stylish pieces, but was mostly understated. Linen pants and biker jackets with contrasting shirts radiated a relaxed summer look. The colour palette was minimal with a selection of basic whites, blues and blacks.

Rang Rasiya

Collection: De Novo




The collection was an amalgamation of baroques, trellises and charming botanicals paying reverence to a traditional yet contemporary fashion. With the colour scheme consisting of soft pastels with tints of vibrant hues, the brand put forward an utterly feminine and wearable collection. Models sported outfits which ensured that simple silhouettes will be the rage for the upcoming summer season. Julke bags matched perfectly with the collection.

So Kamal

Collection: Mughal Sway




The intricacy and beauty of art form was an influential aspect for the vibrant collection presented by designer Erum Ahmad. Inspired by the ornamentations of erstwhile royalty, the collection entailed quirky prints and cuts. The ensembles featured pastels that transformed into rich yellow and a combination of red and black as the show progressed. Jumpsuits, flowing gowns, wide-legged pants and trailed shirts dominated the line.

PSFW Day 2: Hits, misses and all that jazz

Noor by Saadia Asad

Collection: Dastaan Noor




Kids created fun on the ramp in cute floral dresses. The collection highlighted surreal garments, which consisted of flowing tops, off shoulder asymmetrical shirts paired with pants and graceful dresses in soft floral prints. Chiffon dupattas were adorned with oversized tassels.

Adnan Pardesy

Collection: Quixotic




Adnan showcased outfits for men and women. Contemporary silhouettes led the collection and featured strategic placement of intricate hand embroideries and cutwork all over the fabric. The designer has not only gained recognition for his unique fashion statement but also possesses the knack of experimenting with diverse textures on different fabrics. The cut-work jumpsuits and jackets in silk and organza made a dramatic impact. It was a smart decision to opt for a muted colour scheme – in shades of light grey, cream and light gold –because the intricate embellishments on the outfits stood out from afar. The pleated dhoti shalwar was a sure-fire stand-out.

Have something to add to the story? Share it in the comments below. 
COMMENTS (1)
Comments are moderated and generally will be posted if they are on-topic and not abusive.
For more information, please see our Comments FAQ