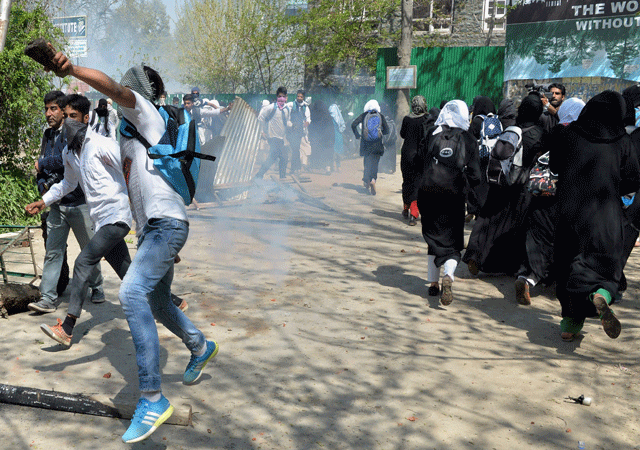 ---
SRINAGAR: Hundreds of Kashmiri students clashed with Indian security forces in the held Kashmir during protests on Monday against a police raid on a college, as tensions ran high in the restive region.

Around 100 students were injured as police used batons and tear gas to try to quell the protests, which broke out in the main city of Srinagar before spreading to other parts of the Kashmir valley.

Kashmir issue: Maleeha asks US to defuse tensions

Teenagers in school uniform and women students wearing white headscarves were among the protesters, who chanted anti-India slogans and threw stones at government forces.

A student union had called for protests after police on Saturday tried to raid a college in the southern district of Pulwama to round up suspects in recent violent demonstrations, sparking clashes in which at least 60 students were injured.




"Students are protesting in a few colleges. We are dealing with a situation," a senior police said on condition of anonymity.

Indian-held Kashmir has been tense since April 9, when eight people were killed by police and paramilitary troops during election day violence.

On Saturday, a street vendor was shot dead by India's Border Security Force (BSF) and on Sunday three people were also killed.




Footage apparently showing a civilian tied to the front of an army jeep to deter protesters from throwing stones at the vehicle has also caused outrage after it was circulated on social media last week.

The army has launched an investigation into the incident and police have registered a case although no arrests have yet been made.

The Kashmir University Students Union, a banned student body, had called for protests in all colleges and universities following Saturday's incident.

Braving brute force: Freedom fight of Kashmiris unstoppable, says Nawaz

Indian forces are not supposed to enter college or university premises without special permission, and on Saturday, the union said the police action was designed to help the state "rule by repression and fear".

Kashmir has been divided between Pakistan and India since the end of British rule in 1947. Both claim the territory in its entirety.

Armed encounters between separatists fighting Indian rule and security forces have become more frequent since the killing of Burhan Wani, a popular separatist leader, by Indian security forces in July 2016, sparked widespread unrest.
COMMENTS (2)
Comments are moderated and generally will be posted if they are on-topic and not abusive.
For more information, please see our Comments FAQ