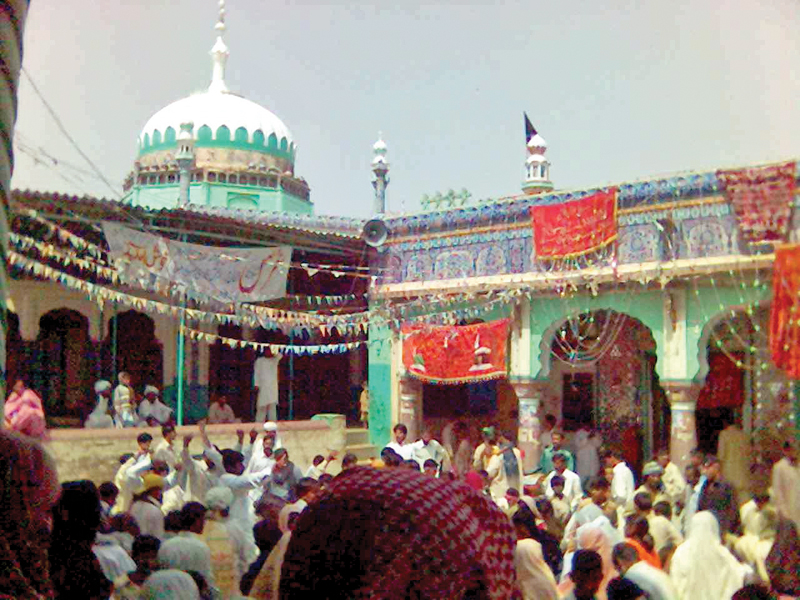 ---
DERA GHAZI KHAN: For years, the shrine of Syed Ahmed Sultan, popularly known as Sakhi Sarwar,  has attracted thousands  of devotees as the Sufi saint, who was born in 1120AD, is equally revered by Muslims, Sikhs and Hindus.

Sakhi Sarwar is also known by various other appellations like Sultan (king), Pir Lalanwala (Saint of Rubies) and Lakhdata (Giver of millions). Sarwar's father Syed Zainul Abedein hailed from Medina and had migrated to the area now known as Pakistan and settled in a small town known as Shahkot.

The Sufi saint died in 1181 and his devotees built a shrine over his grave at the foot of Koh-e-Sulaiman (Sulaiman mountain), the southern extension of Hindu Kush Range.

The western side of the shrine also houses some artifacts associated with the founder of Sikhism Baba Guru Nanak.

Close to the shrine there is a house, which many believe, was the house of famous Hindu god Shiva or Bhiro. There is a separate room in the shrine where some articles associated with the saint's family are on display for devotees.

Sarwar is a descendant of Imam Hussain (RA). The saint was known for his generosity. When his father-in-law, who was the ruler of Multan, gave his daughter's dowry, Sarwar distributed it among the needy.

Mughal emperors also used to send gifts to him which he used to donate to the poor.

Thousands of his devotees arrange langar (communal meal) at his shrine, where Muslims, Sikhs and Hindus all benefit from the gifts of spirituality.

Interestingly, the devotees travel to the shrine on camels or on foot as a gesture of respect and love for the saint. Every year the annual Urs begins on March 15 and the celebrations continue for a period of six weeks.

Thursdays are the most crowded days when a lot of people visit the shrine. Thousands of devotees are still pouring in from across Punjab and other parts of the country.

Mukhtar Hussain, who had come from Rangpur, Jhang told The Express Tribune that devotees were facing difficulties and tight security measures have added to their difficulties. He said proper food, lodging and water facilities were also not available for devotees, who had come from far-flung areas.

Towards the end of the annual celebrations, a fair starts along Zood Kohi stream near the shrine and continues till the completion of wheat harvest. Large cauldrons of sweetmeat with dry fruits are cooked and distributed among the devotees.

Auqaf Manager Hamid Hasan told The Express Tribune that arrangements of water supply, electricity and security have been improved this year. He said due to terrorism threat, dhamal has been shifted to a nearby roundabout.

The visiting hours of the shrine have also been reduced for security reasons.

(Translation by Arshad Shaheen)

Published in The Express Tribune, April 17th, 2017.
COMMENTS (1)
Comments are moderated and generally will be posted if they are on-topic and not abusive.
For more information, please see our Comments FAQ