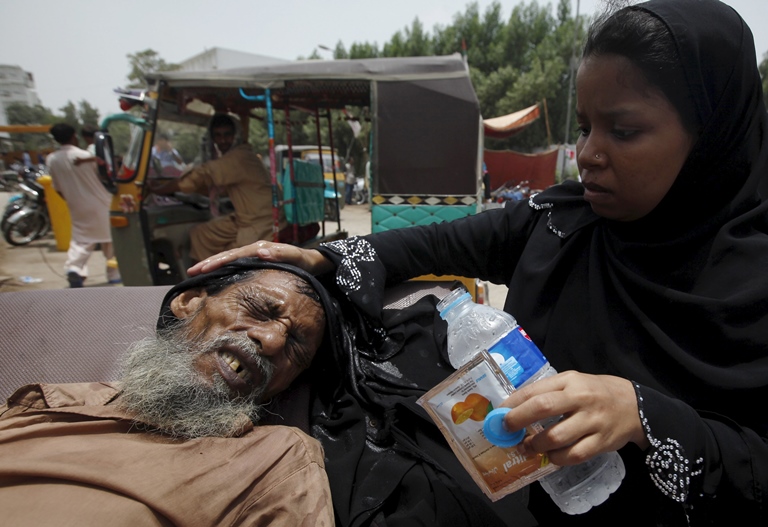 ---
ISLAMABAD: The heatwave gripping Sindh is expected to spread to other parts of the country after mid-April. In view of this, the Pakistan Meteorological Department (PMD) has issued alerts to all the departments concerned to adopt pre-emptive measures to avoid any untoward situation.

PMD's Director General Dr Ghulam Rasul, while talking to The Express Tribune, said that usually in mid-April temperature in most parts of the country, except in interior Sindh, rarely crosses 40 degree centigrade. He added, "It is expected that the coming week is likely to be the hottest week of the year throughout the country."

While sharing details, he said that next week temperature in central Pakistan will touch 45-46 degree centigrade, in interior Sindh it will reach 48-49 degree centigrade, in plain areas of Balochistan it will fluctuate between 42 to 44 degree centigrade, in southern Punjab it will fluctuate between 45 to 47 degree centigrade and in Islamabad it is expected to cross 40 degree centigrade.

Heatwave similar to 2015 expected in Karachi this year

He added that the mercury is also likely to touch 30 degree centigrade in Gilgit-Baltistan, Chitral and other northern areas.

He said that the last time the temperature crossed 40 degree centigrade in the capital was in 2006 when the temperature was recorded at 40.6 degree centigrade  on April 29 of that year. "Therefore mostly temperature crosses 40 degree mark either at the end of April or in May, not in the mid of April," he said.

WhatsApp 'Red Alert' message cautioning Karachiites of fake heat-wave creates panic

While talking about the humidity level, Dr Rasul said that it is expected to remain below 30 centigrade. He also clarified that in such a situation things get worse only when the humidity level reaches 50.

Dr Rasul further said that the week will remain dry and hot as there are no chances of rain.

"However, in coastal areas and in Karachi the temperature will likely fall four to five degree centigrade as the sea breeze will continue to blow," said Dr Rasul.

Forewarned is forearmed: 'We need to be better prepared for the heatwaves'

He suggested people to take precautionary measures in the upcoming week to avoid falling victim to the heatwave. "People should increase their water intake, avoid exposure to the sun, avoid going out during peak hours, wear light colour clothes, cover head with a wet cloth among others," advised Dr Rasul.