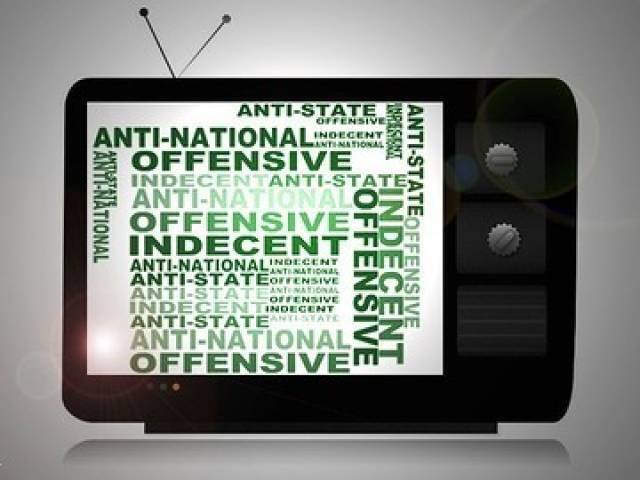 ---
The Pakistan Electronic Media Regulatory Authority (Pemra) fined on Thursday two private news channels for "airing baseless news" against the Inspector General Police (IGP) Sindh Allah Dino Khawaja.

"In a complaint filed by IGP Sindh AD Khawaja, Pemra Council of Complaints meeting recommended to impose a fine of Rs 200,000 and Rs 300,000 on private television channels Abb Takk and Channel 24 respectively for airing baseless, defamatory and unverified allegations against the complainant," the media watchdog said in a statement.

SC takes notice of 'vulgar' song aired on private TV channel

"Proceedings regarding the complaints against news reporter Zille-e-Haider on Channel 24 and Abb Takk programme Benaqab hosted by Saifan Khan were conducted by the council on February 8, 2017, and March 29, 2017, respectively," it added.

The authority directed the channels to air an apology and deploy and properly utilise a time delay mechanism. It also asked them to constitute an in-house editorial committee to ensure compliance of the Electronic Media Code of Conduct 2015.

A copy of the Pemra notification available with The Express Tribune:




On March 31, 2017, Pemra imposed a fine of Rs1 million on Hum TV for airing "objectionable clips" in one of its drama series.

The channel on January 29th, 2017, aired an episode by the title of "Chew Gum" for its drama series "Kitni Girhein Baqi Hein" having "objectionable content", following which a show-cause notice was issued to the Eye Television Network Pvt Limited later in February, said Pemra.
COMMENTS
Comments are moderated and generally will be posted if they are on-topic and not abusive.
For more information, please see our Comments FAQ