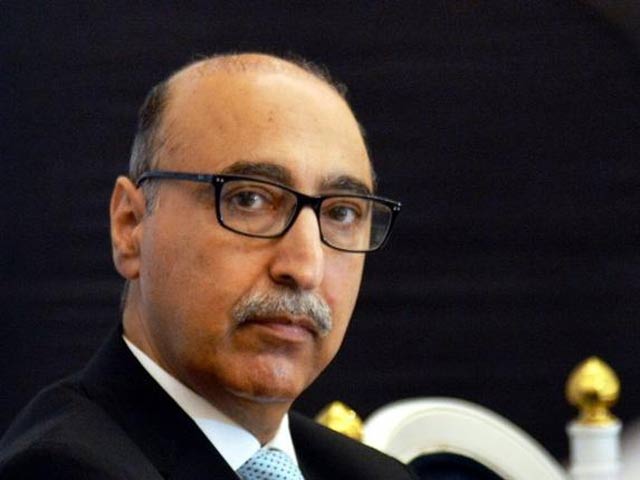 ---
Pakistan High Commissioner to India Abdul Basit on Wednesday said Pakistan has sufficient evidence against RAW agent Kulbhushan Jadhav.

"We have sufficient evidence against Jadhav and have shared it with the Indian government. He was involved in sabotage and terror," Basit said while giving an interview to the India Today.

Jadhav was arrested in March last year in Balochistan for fuelling subversive activities and attempting to sabotage the $46-billion China-Pakistan Economic Corridor.

A statement by the Inter-Services Public Relations (ISPR) on Monday said Jadhav was declared guilty of waging war against the country.

"The spy was tried through Field General Court Martial under the Army Act and awarded the death sentence. Today chief of army staff Gen Qamar Javed Bajwa confirmed his death sentence awarded by FGCM," the ISPR said.

Self-confessed Indian spy awarded death sentence

"He confessed before a magistrate and the court that he was tasked by RAW to plan, coordinate and organise espionage/sabotage activities aiming to destabilise and wage war against Pakistan by impeding the efforts of law enforcement agencies for restoring peace in Balochistan and Karachi."

Talking to Indian media Basit said that the evidence has been shared with Indian government as well.

Basit said that Jadhav has been given a fair trial and assured that he will be given the right to appeal or seek mercy.

"Jadhav has been visiting Pakistan since 2003 using an original Indian passport but with a fake name", Basit said.

Basit said, the charges against Jadhav were such that he could not be tried in a civil court, and that he had been tried under the laws of the land, the 1952 Pakistan Army Act and he was also provided defence counsel.

No date has been announced yet for Jadhav's execution.

India had summoned Abdul Basit on Monday and issued a demarche stating that the death sentence if carried out, would amount to "premeditated murder." Pakistan has dismissed India's assertion.
COMMENTS (4)
Comments are moderated and generally will be posted if they are on-topic and not abusive.
For more information, please see our Comments FAQ